Control Panel monitors gas detectors in Zone 1/2 hazardous areas.
Press Release Summary: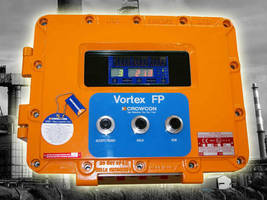 Installed in Atex Zone 1 and 2 hazardous areas, flameproof Vortex FP Compact monitors toxic and flammable gas detectors or fire detectors. Size suits confined spaces, and all daily operations can be performed without opening panel's enclosure. Gas levels, alarms, and faults are viewed through window, and all system functions are accessed via buttons or included Crowmag magnetic key. Rated IP66 for dust and water ingress, panel contains up to 16 relays and can also monitor up to 12 detectors.
---
Original Press Release:

Vortex FP Control Panels Monitor Gas Detectors in Zone 1 Hazardous Areas



MUMBAI -- Compact Model now Available for Tight Spaces Where Other Flameproof Panels may not fit



Crowcon's new Vortex FP Compact control panel increases the flexibility of its flameproof product range. Like the existing Vortex FP, the FP Compact is specifically designed to monitor toxic and flammable gas detectors or fire detectors where there is a need for the control system to be installed in Atex Zone 1 and 2 hazardous areas. Its more compact size, however, means it is particularly suited to confined spaces such as analyser shelters in refineries, offshore rigs or FPSO (floating production, storage and offloading) installations.



All day-to-day operations on either model can be performed without having to open the panel's enclosure: gas levels, alarms and faults are viewed at a glance through a window and all system functions are accessed either via buttons or a 'Crowmag' magnetic key (supplied). This means the whole system can be checked at a glance without a 'hot work' permit being required, which in turn means adjacent areas can remain online, saving time and money.



The standard Vortex FP contains up to 24 relays and can monitor up to 12 gas/fire detectors, while the FP Compact contains up to 16 relays and can also monitor up to 12 detectors. Rated IP66 for dust and water ingress, both models meet all the latest gas detection legislation and EMC standards and is validated to the IEC 61508 (SIL 1) functional safety standard.



The control panel is also highly configurable: it can be factory-set according to end-user requirements or altered at any time by a PC using the software provided. Adjustments can also be made in-situ without the need for additional equipment.



All relays are monitored continuously, ensuring the integrity of the entire control system. Modbus capability also allows two-wire linkage between the panel and the control room, saving on a potentially large number of costly cable linkages.



In areas where explosive or toxic gases are a real and imminent danger, both the Vortex FP and the Vortex FP Compact allow workers to perform their jobs more efficiently without compromising their safety.



About Crowcon and Halma:



Crowcon (www.crowcon.com) is a world leader in portable and fixed gas detection instruments. The company is represented in India by Crowcon's Joint Venture partner Detection Instruments Pvt. Ltd. in Mumbai (www.detection-india.com).



Crowcon is a subsidiary of Halma p.l.c. (www.halma.com), an international market leader in safety, health and sensor technology. It is a public company listed on the London Stock Exchange and has over 4000 employees in over 40 subsidiaries worldwide. Halma's subsidiaries make products that protect lives and improve the quality of life for people through innovation in market leading products which make its customers safer, more competitive and more profitable. These subsidiaries are assisting India's economy in areas such as energy, manufacturing, healthcare, water and waste treatment, construction and transport. Halma has a hub office in Mumbai.



For further news about Halma in India and to subscribe to the Halma India RSS News



Feed please visit our blog. You can also visit Crowcon's own blog.



Contact details for Crowcon's distributor in India: Kishore Degwekar, general@detection-india.com / sales@detection-india.com, Managing Director, Detection Instruments Pvt. Ltd. Tel: 022 2761 7663 / 64 / 65 / 66



Primary Media Contact: Mr. Kuniyur J. Srinivasan, srini@halma.com, 91-22-67080400



Secondary Media Contact: Mr. Damian Corbet, damian.corbet@halma.com, 44-1494-789152

More from Cleaning Products & Equipment