Control/Monitoring System enhances wastewater utilities.
Press Release Summary: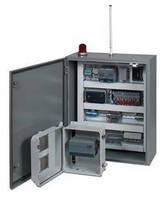 Providing connected control and monitoring for rural wastewater facilities, Pump Station Appliance is pre-engineered and pre-programmed and comes fully-assembled for facilitated installation. Purpose-built solution, configured online, is built on PACSystems RXi platform. Communications are provided over secure 3G VPN connection, enabling 24/7 access to operations data from anywhere. Also, upgradeable system will send operators email alarm notifications if problems occur at remote site.
---
Original Press Release:

GE Delivers Connected World Architecture to Rural Wastewater Utilities



Pump Station Appliance is a purpose-built pump station control and monitoring solution for rural wastewater utilities



Solution is customized and configured on the Industrial Internet; no IT resources required; secure web-based access allows view of operational status so operators stay connected



Pre-engineered package eliminates the need for complex design and engineering, while PLC architecture provides easy and powerful future expansion capabilities



CHARLOTTESVILLE, VA — GE Intelligent Platforms (NYSE: GE) today announced its latest high performance offering, Pump Station Appliance, a purpose-built solution that provides connected control and monitoring for rural wastewater facilities. This pre-engineered, pre-programmed solution can be purchased online and comes fully-assembled for easy installation, eliminating the need for complex design and engineering.



"Upgrading to a sophisticated automated control system seems impossible when you have limited staff, funds and IT support," said Alan Hinchman, Global Market Director Water Industry for GE Intelligent Platforms. "The Pump Station Appliance is the first PLC-based solution you can buy online. No IT resources are required."



By answering a few questions online regarding the physical layout of the wastewater pump station, users can configure the Pump Station Appliance to their specific wet well. Its intuitive web-based interface and menu-driven configuration make installation easy and fast. The solution arrives pre-built and can be installed by a local electrician who simply connects the devices to the pre-wired control panel.



Built on the high performance PACSystems RXi platform, the Pump Station Appliance provides reliable performance to improve uptime even in the harshest environments. Communications are provided over a secure 3G VPN connection providing operators access to operations data from anywhere, 24 hours per day, 7 days per week. The system will also send the operators email alarm notifications if problems occur at the remote site.



The Pump Station Appliance is also easy to reconfigure online as needed, so it can grow with the needs of the facility. The RXi's COM Express architecture enables easy upgrades without replacing the entire controller.



"A wastewater utility plays a big role in community safety and environmental protection," said Hinchman. "If the utility's monitoring and control system is too outdated to run efficiently and effectively, it impacts operational costs, safety and the environment. If the system fails, and control and IT support are hours away, you may see hours of downtime and potential damage. Many utility managers consider control system upgrades too expensive and complex to initiate—but the reality is, it costs you more to put it off.



"GE's Pump Station Appliance is an affordable solution to monitoring and controlling a rural utility from anywhere," he concluded. "With no complex design or engineering, no radio architecture, no server infrastructure to install or maintain, and no HMI, there's no other system this easy to configure, install and operate."



For more information, click here. To see a demo of the Pump Station Appliance, click here.



About GE



GE (NYSE: GE) works on things that matter. The best people and the best technologies taking on the toughest challenges. Finding solutions in energy, health and home, transportation and finance. Building, powering, moving and curing the world. Not just imagining. Doing. GE works. For more information, visit the company's website at www.ge.com.



Media contacts:

Elli Holman

GE Intelligent Platforms, Public Relations Director

Phone: +1 508 698 7456

Mobile: +1 508 298 8306

Email: elli.holman@ge.com

More from Electronic Components & Devices