Control Box accurately pressurizes air casters.
Press Release Summary: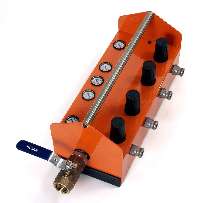 Control Box provides precise pressure regulation to each air caster while floating large loads on thin film of air. It includes 4 or 6 self relieving pressure regulators with gauges, on/off inlet ball valve, main air supply pressure gauge, transport handle, and quick disconnect outlets. Box allows main plant air supply to be distributed to each individual air caster, compensating for off-centered loads. Casters transport loads from 200 lb up to thousands of tons.
---
Original Press Release:
New Control Box Accurately Pressurizes Air Casters

Aeris Corporation introduces a new line of control boxes designed to provide precise pressure regulation to each individual air caster while floating large loads on a thin film of air. The industrial grade control box includes four or six self relieving pressure regulators with gauges, on/off inlet ball valve, main air supply pressure gauge, a convenient transport handle, and quick disconnect outlets. In addition, the powdered coated control box framework disassembles in minutes for easy access and maintenance.

Typically an air caster system consists of 4 or 6 individual air casters that are strategically place under a load. The function of the control box allows the main plant air supply to be distributed to each individual air caster. Since the center of gravity of most objects to be moved is not symmetric, the pressure of each air caster must be adjusted to compensate for off-centered loads. The new control box makes this process simple and reliable so that heavy loads are easily moved throughout the factory on a thin film of air. Typical loads include telephone switch gear vaults, machine tools, injection mold machines, blow molding machines, stamping presses, cutter creasers, large ship sections, jet engines, satellites, printing presses, prefabricated buildings, mining or construction equipment, compressors, air conditioners and large transformers.

Air Casters are manufactured in diameters ranging from 12 to 60 inches and can transport loads from 200 pounds up to thousands of tons. Air Casters require only 3- 5 pounds of effort per 1000 pounds of weight on a smooth, sealed floor surface. The omni directional capability allows total flexibility within the manufacturing cycle to optimize floor space, reduce labor hours, and improve quality and safety. Standard as well as custom designed systems are available including load modules, planks, pallets, roll-movers, turntables, and power driven steel transporters.

Inquired today to find out how Aeris Corporation can help you.

Aeris Corporation

4604 Kolb Avenue

Columbus, GA 31904

Attn: Joe Durlach, VP Sales & Marketing

800-323-0571 Phone

706-323-0510 Fax

www.aeriscorporation.com web site

jdurlach@aeriscorporation.com email address
More from Electrical Equipment & Systems