Vision and Imaging Sensors / Detectors
Contrast Sensor offers registration sensing.
Press Release Summary: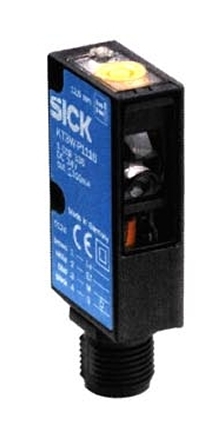 KT 3 solid state, registration control sensor includes 3 color LEDs, integrated switching threshold adjustment, and static 2-point teach-in, which teaches on mark and background. Teach-in can be done externally via wire or with teach button on sensor. KT 3 has 50 msec response time, allowing for 10 kHz switching frequency. Applications include mark and contrast detection, presence detection of codes or labels, quality assurance, and material flow control.
---
Original Press Release:

KT 3 Offers Inexpensive, Compact Registration Sensing


SICK, Inc. introduces the KT 3 contrast sensor, a high speed, inexpensive, solid state registration control sensor. The small, compact design can be used in applications with limited space where fibers previously were the only option. Three color LEDs make it possible to achieve high contrast resolution for standard applications with a low-cost registration sensor.

The KT 3 features an integrated switching threshold adjustment if very shiny objects need to be detected. This sensor also has static two-point teach-in, which teaches on the mark and the background for increased user-friendliness. Teach-in can be done externally via wire or with the teach button on the sensor. The KT 3 has a 50 ms response time, allowing for a 10 kHz switching frequency.

Typical uses of the KT 3 include mark and contrast detection in the packaging industry in applications such as: bag filling machines, positioning of labels, aligning tubes or bottles and proper cutting of labels. The KT 3 can also be used for presence detection of codes or labels, quality assurance, material flow control and in situations where contrasts have to be detected quickly and accurately.

Technical Contact:
Wayne Meyer

Related