Continuous Scroll Compressor serves battery-powered equipment.
Press Release Summary: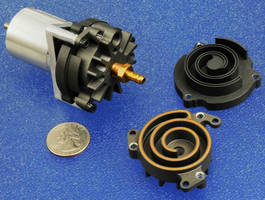 Measuring 2 in. dia x 2.75 in. long, oil-free scroll compressor delivers 48% efficiency with up to 5 Lpm flow at 7 psig discharge pressure. Vibration-free, orbiting scroll design eliminates need for dynamic seal and features operating element made up of 2 identical involutes that form right- and left-hand components. Running in reverse, scalable scroll compressor becomes expander or air motor. Functionality meets requirements of lightweight, battery-powered, low-noise systems.
---
Original Press Release:
Air Squared Develops World's Smallest Continuous-Duty, High-Efficiency Scroll Compressor for Battery-Powered Equipment
At just 2 inches diameter and 2.75 inches long, unit delivers a 48 percent efficiency with up to 5 lpm flow at 7 psig. Orbiting scroll design eliminates need for dynamic seal and extends duty life Air Squared, the world's only maker of sub-1-hp scroll compressors, has developed the world's smallest continuous-duty, oil-free scroll compressor, delivering 48 percent efficiency to meet the application requirements of lightweight, battery-powered, low-noise systems, such as durable medical equipment, electronics, aerospace and military gear. Inherently vibration-free, the orbiting scroll unit produces 5 lpm of pulse-free flow at up to 7 psig discharge pressure. The new design eliminates the need for a dynamic seal by using a traditional orbiting scroll rather than a spinning scroll. The design is intended for production via injection molding to minimize the size and weight of components, and is capable of being scaled up, according to the manufacturer. Medical applications include portable oxygen concentrators, ventilators, aspirators, nebulizers, dialysis machines, and blood pressure monitors. How it works Inside it looks like a doodle. But if the "scroll" air compressor's swirly internals catch the eye, performance definitely grabs the attention. Absent are the clicking valves, vibration, and unreliable seals that characterize reciprocating compressors. The scroll's rotary motion delivers quiet, clean, and reliable performance. The operating element of a scroll compressor is made up of two identical involutes, which form right- and left-hand components. One scroll is indexed or phased 180 degrees with respect to the other so the scrolls mesh. This indexing creates crescent shaped gas pockets, bounded by the involutes and base plates of both scrolls. In operation, one scroll remains fixed; the other is attached to an eccentric driven by the motor shaft. As the moving scroll orbits the fixed scroll, the gas pockets formed by the meshed scrolls follow the spiral inward to compress air, which is discharged through an outlet in the center of the scrolls. Running in reverse, the scroll compressor becomes an expander or air motor. For more information on Air Squared's small scroll air compressors, contact: Robert Shaffer, president; Air Squared, Inc.; 3001 Industrial Lane, # 3; Broomfield, CO 80020. Tel: 513.200.3787. E-mail: robert@airsquared.com. Contact: Robert Shaffer, President Air Squared Inc. 3001 Industrial Lane, # 3 Broomfield, CO 80020 Tel: 303.466.2669 Fax: 303.466.4425 robert@airsquared.com
More from Packaging Products & Equipment