Continuous Insulation Sheathing Board is non-combustible.
Press Release Summary: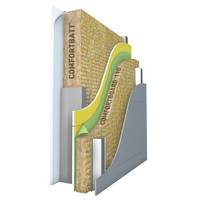 Designed for use as exterior continuous insulation in commercial rainscreen wall systems, COMFORTBOARD™ CIS (Commercial Insulated Sheathing) is thermally efficient and vapor permeable. This rigid, high density, water repellent stone wool insulation board provides rigidity and durability needed for exterior cladding assemblies. Thermal properties promote energy efficiency, and standard thicknesses of 1, 1.25, 2, 2.5, and 3 in. have respective R-Values of R4, 5, 8, 10, and 12.
---
Original Press Release:
ROXUL® Launches COMFORTBOARD(TM) CIS
Noncombustible Commercial Insulated Sheathing

MILTON, Ontario – High-performance exterior wall assemblies can now perform even better, with today's launch of an innovative continuous insulation sheathing board from ROXUL Inc.

ROXUL® COMFORTBOARD™ CIS (Commercial Insulated Sheathing) is a rigid, high-density, non-combustible stone wool insulation board specifically designed for use as an exterior continuous insulation in commercial rainscreen wall systems.

Thermally efficient and vapor permeable, COMFORTBOARD CIS provides the rigidity and durability needed for many exterior cladding assemblies, such as lightweight metal and composite panel systems. Its thermal properties improve energy efficiency.

Stone wool is also water repellent, providing a tertiary drainage plane for bulk water which may migrate into the wall cavity; yet allows the breathability necessary for outward drying and effective moisture control.

"New energy codes are driving the need for high performance wall systems and COMFORTBOARD CIS provides a true continuous insulation solution for more energy-efficient wall systems," said Brian LeVoguer, Vice President, Building Envelope & Specification Sales, ROXUL. "COMFORTBOARD CIS is also highly vapor permeable and sound absorbent, two qualities that are ideally suited to this application."

ROXUL COMFORTBOARD CIS is available in 1", 1.25", 2", 2.5" and 3" thicknesses, with R-Values of R4, 5, 8, 10 and 12, respectively.

ROXUL stone wool insulation products serve the commercial, industrial, roofing and residential sectors throughout the North American market. Visit www.rspec.com for more commercial product information or www.roxul.com for information on other product categories.

About ROXUL
ROXUL Inc., located in Milton, Ontario and Grand Forks British Columbia is a subsidiary of ROCKWOOL International, the world's largest producer of stone wool insulation. ROXUL will be expanding its North American operations into the USA in 2014 with the opening of a Mississippi based manufacturing facility. ROCKWOOL International is a publicly held company, which trades on the Copenhagen Stock Exchange. Operating 27 factories in 16 countries, the ROCKWOOL Group employs over 9,800 people and features a global network of sales companies, trade offices and dedicated commercial partners. ROXUL products provide superior thermal and acoustical value and are fire resistant, water repellent, non-corrosive, and resistant to mold.

Contacts
Wendy Pole
ROXUL Inc.
800-265-6878, Ext. 4369
wendy.pole@roxul.com

Sylvia O'Hagan
Ketchum
914-693-5135
sylvia.ohagan@ketchum.com
More from Electronic Components & Devices