Continuous-Flex Cable suits space-restricted areas.
Press Release Summary: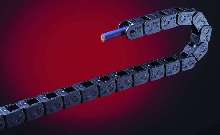 With recommended bend radius of 4 times outer diameter, Chainflex® CF98 is equipped with alloy conductors that have higher tensile strength than standard copper and withstand more than 9 million cycles with no visible signs of wear. Thermoplastic elastomer jacketed cable is abrasion-, oil-, UV-, and bio-oil-resistant. Product, rated at 300 V, is also flame-retardant and halogen-free. Cable is designed for use in Energy Chain Systems®.
---
Original Press Release:

igus Debuts Chainflex CF98 Continuous-Flex Cable for Extremely Tight Space Restrictions


Unique alloy enables bend radius of four times the outer diameter

EAST PROVIDENCE, R.I. - September 29, 2003 - igus® Inc. today announced the availability of its new Chainflex® CF98 continuous-flex cable which has a recommended bend radius of four times the outer diameter, the smallest of any Chainflex cable to date. New Chainflex CF98 is equipped with unique alloy conductors which have higher tensile strength than standard copper. Igus Chainflex continuous-flex cables are designed specifically for use in Energy Chain Systems® and withstand the stress of tight bending radii to deliver longer extended life at a lower cost. Igus offers an extensive line of cables, in more than 400 sizes and styles.

Chainflex CF98 can meet the tightest space restrictions with a recommended bend radius of four times the outer diameter. It's an ideal cable for automatic doors, ATM machines and high-speed pick-and-place robotic applications. The combination of CF98 with the igus Energy Chain® E2 Micro series creates a complete Energy Chain System that can squeeze into any application.

The unique alloy conductors used in Chainflex CF98 replace traditional copper conductors. When tested, the cables with alloy conductors delivered a life span five times longer than those with standard copper. The copper cables withstood 1.8 million cycles before strand breakage, while the new alloy cables performed through more than 9 million cycles with no visible signs of wear.

The alloy can endure higher temperatures than copper and offers a higher tensile strength. It has a flex life seven times higher than copper. When soft, copper has one of the lowest tensile strengths among conductors. In flexing applications with larger bend radii, copper provides sufficient flexing ability. With tighter space restrictions, the mechanical stress on the cable is greater, which increases the tendency for standard soft copper to work harden. The unique alloy combines the advantages of copper-electrical conductivity, elongation and mechanical processing-with the advantages of high tensile strength, exposure to variant temperatures and extended flex life, for a superior solution.

Chainflex CF98 is part of igus' family of thermoplastic elastomer (TPE) cables. Cables with TPE jackets are abrasion-resistant, oil-resistant, flame-retardant, bio-oil-resistant, UV-resistant and halogen-free. Because they are completely halogen-free, Chainflex TPE cables are ideally suited for use in high-traffic, human-contact applications such as subways and elevators.

Chainflex CF98 is CE certified, rated for 300 volts and offers many conductor combinations. It is currently available in three sizes with additional sizes forthcoming.

About igus
Igus Inc., based in East Providence, R.I., develops and manufactures industry-leading, polymer-based cable carriers, continuous-flex cables and plain and linear bearings. With more than 28,000 products, the company markets its Energy Chain Systems, Chainflex cables and iglide® oil-free, plain polymer bearings worldwide. For more information contact igus at (800) 521-2747 or visit www.igus.com.

igus, Chainflex, Energy Chain Systems, Energy Chain and iglide are registered trademarks of igus Inc. All other company names and products are trademarks or registered trademarks of their respective companies.

More from Controls & Controllers