CONTINENTAL FAN "CEF Ceiling Exhaust Fan"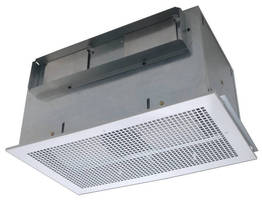 Continental Fan's CEF Ceiling Exhaust Fans provide the perfect solution for conference rooms, hotels, public restrooms, or any commercial spaces that require continuous ventilation. These ceiling or in-line mount exhaust fans feature a low profile grille and an integral backdraft damper. CEF fans are designed for smooth, quiet, and efficient operation, with capacities to 1513 cfm.



FEATURES BENEFITS




Acoustically insulated galvanized steel housing



Low profile grille



Integral backdraft damper



Easily removable blower assembly



Horizontal (standard) or vertical discharge



8 position mounting brackets



Anti-vibration mounts isolate motor for smooth operation



Thermally protected fan motor



Ideal for commercial ventilation applications



Capacities to 1513 cfm



The CEF Ceiling Exhaust Fan, a better AIRFLOW solution from:



……… better AIRFLOW by DESIGNTM



For more information contact Leigh Treadway, or visit us on the web to view our full line of residential commercial fan products.