Continental Fan "AFK Flange Fan"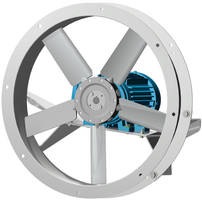 Continental Fan's AFK Flange Fans deliver maximum performance in minimal space. This compact yet powerful fan is available in diameters from 12" through 42", with capacities ranging to 34,000 cfm. An ideal condenser fan, the AFK Flange Fan has an airfoil adjustable pitch impeller for precise performance matching. A fully reversible double flange design provides exceptional strength and allows for duct mounting if needed. 



Continental Fan provides unique designs that are quiet, efficient and performance driven. A computerized fan selection program makes selecting the correct fan simple. Custom designs and all aluminum construction are available.



FEATURES BENEFITS

• Airfoil adjustable pitch cast aluminum impeller

• Unit can be built for supply or exhaust configurations

• Superior performance and sound characteristics

• Heavy gauge steel with baked polyester coating

• GRP (polypropylene) blades available

• Ideal for OEM applications or new construction

• Fully reversible design available

• Advanced computerized selection program

• Sizes range from 12" to 42"

• Capacities to 34,000 cfm



The AFK Flange Fan, a better AIRFLOW solution from: 



CONTINENTAL FAN ……… better AIRFLOW by DESIGN™



For more information contact Bruce Gover, or visit us on the web to view our full line of Panel Fans.