Container Unloading System unloads unpalletized products.
Press Release Summary: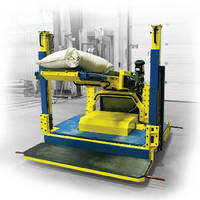 Designed to minimize worker back strain and fatigue, Destuffing Platforms offer ergonomic solution to destuffing transportation containers and trailers of unpalletized product. Systems integrate with host conveyor and have adjustable personnel platform for workers to stand on. Standard capacity is 150 lb per unit sequential loading on pivoting conveyor belt. Anti-collision sensors prevent impact damage against container side wall and prevent personnel from getting caught or driven into.
---
Original Press Release:
Destuffing Platforms Address Ergonomic Challenges of Unloading Containers & Trailers
WATERLOO, ONTARIO, CANADA - Engineered Lifting Systems & Equipment Inc. is launching an innovative line of Destuffing Platforms, an ergonomic solution to aid in destuffing transportation containers and trailers of un-palletized product (boxes, bags, totes, etc.) designed to reduce worker back strain and fatigue while increasing efficiencies. Successfully installed at a Greater Toronto Area (Ontario) distribution center for wine and beer, Destuffing Platforms have noticeably enhanced unloading time at inbound shipping docks by increasing throughput of product and have also contributed to a safer working environment. Workers manually unloading un-palletized boxes from trailers docked at inbound distribution centers, experienced fatigue from repetitive bending, twisting, overhead reaching, lifting, and carrying in this physically demanding job. Facility management decided to seek an ergonomic intervention to address issues of worker injuries and productivity. Engineered Lifting Systems & Equipment Inc. (ELS), a company that manufactures material handling and related lifting equipment, was selected to provide a solution. The Tooling Integration division of ELS met the challenge by designing a Destuffing Platform - an ergonomic end-of-line lift assist that integrates with host conveyors. Destuffing Platforms were designed with an adjustable personnel platform for workers to stand on, allowing workers to optimize their positioning in relation to the changing level of product being unloaded. The pivoting conveyor belt, an integral part of the machine, gave easy positioning of the conveyor drop point adjacent to the area being unloaded. Integration with host conveyors immediately enhanced throughput to the host conveyor system. Benefits to the workers included: minimizing lifting operations, movements and overhead reaching, reduction in fatigue and exertion, and contribution to better working environment. Benefits to management included: enhanced levels of full shift productivity and shorter wait times in shipping areas that lead to more efficient operations, increased throughput of product unloaded, reduced product damage and lower incidences of worker injury. The Destuffing Platform has capacity for 150 lbs per unit sequential loading on its pivoting conveyor belt (optional heavier capacities available). Its standard conveyor belt is designed for continuous operation with guarding throughout the belt travel to protect workers and prevent product catching or jamming (optional wider belts available). It integrates with host conveyor systems (fixed, telescopic or flexible systems) and has an independent, highly maneuverable drive system that drives up typical grades into tight places. It easily relocates to service multiple docks. Four corner anti-collision sensors prevent impact damage against container side wall and prevent personnel from getting caught or driven into. Drive controls are mounted on two side masts and are easily reached by personnel standing on the vertically adjustable platform. Positioning handles on either side of the pivoting conveyor belt allow workers to optimize belt position. About Engineered Lifting Systems & Equipment Inc. (ELS)
ELS has been manufacturing material handling products since 1971. ELS is a Canadian based privately owned company with facility located in Elmira, Ontario, where it employs disciplined teams of technical sales, professional design engineers, certified production and installation workers specialized in skills relating to material handling. For more information please visit www.engliftsystems.com
Related