Contact Parts suit capping equipment.
Press Release Summary: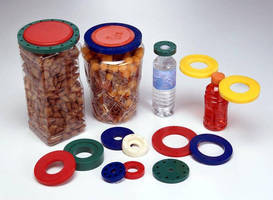 Tightening Discs, Gripper Rubbers, Quills, Quill Discs, and other contact parts are offered to fit chuck or in-line equipment used to apply caps to plastic or glass bottles, jars, or containers. Long wearing polyurethane applies consistent torque to eliminate scuffing or burning, and designs are available for applying lug or screw caps, shaker tops, fitments, and child-proof closures, as well as over caps, double snap caps, trigger sprayers, and large size caps.
---
Original Press Release:

Vi-Cas Offers Capping Machine Replacement Parts



Cincinnati, OH - Vi-Cas Manufacturing introduces Tightening Discs, Gripper Rubbers, Quills, Quill Discs, and other contact parts to fit virtually any brand of capping equipment. Long wearing Polyurethane applies consistent torque to eliminate scuffing or burning of caps while other materials are available to suit virtually any application. Standard designs are available for many types and sizes of equipment used to apply lug or screw caps, shaker tops, fitments, child-proof closures, over caps, double snap caps, trigger sprayers, large size caps, and more.

Fit-in replacement parts are readily available for chuck or in-line capping equipment including Haskin Strand, National Instruments, Pneumatic Scale, Resina, and Swan-matic as well as other equipment used to apply caps to plastic or glass bottles, jars or containers. Vi-Cas can produce any style or design from supplied drawings or reverse-engineer the product from supplied samples. Free samples are also available.

In addition to replacement parts for cappers, Vi-Cas has been manufacturing vacuum cups in various shapes, sizes and materials sine 1970. They provide short or long manufacturing runs, with short turnaround times. On demand delivery is also available. Vi-Cas can quote custom designs from customer-supplied drawings, or reverse engineer from customer-supplied cups. For more information contact Rob Wagner of Vi-Cas Manufacturing at (513) 791-7741, 8407 Monroe Avenue, Cincinnati, OH 45236, via e-mail at vicas@juno.com, or visit them at www.vi-cas.com.

For More Information Contact:

Rob Wagner

Vi-Cas Mfg.

(513) 791-7741

vicas@juno.com

More from Food Processing & Preparation