Constant Tension Automation Reels are designed for hydraulic oils.
Press Release Summary: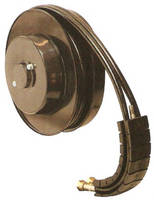 Featuring heavy-duty construction, Automation AG Series accommodates 1–6 hoses for supplying hydraulic oil from fixed to moving points on cranes, truck mounted cranes, forklift trucks, and other materials handling equipment. Internal drive spring ensures reel remains under constant tension, allowing thousands of repetitive cycling motions without internal component fatigue, while bearings and components are designed for high cycle rates and life expectancy.
---
Original Press Release:

Automation, Crane and Forklift Reels



An Australian manufacturer has hose reels for hydraulic oils that will suit many moving applications in mining, quarrying, construction, energy, transport and shipping as well as the general engineering sectors.



ReCoila's Automation AG automation Series is a range of constant tension automation reels specifically designed to supply hydraulic oil from fixed to moving points on cranes, truck mounted cranes, forklift trucks and other materials handling equipment.



Due to the varying demands across these industries – in particular the mining industry, ReCoila's Automation Series reels to accommodate anywhere from a single hose to six hoses.



An internal drive spring ensures any AG Series reel remains under constant tension, allowing thousands of repetitive cycling motions without fatiguing the internal components.



Because of the likelihood of extended duty cycles in situ as well as demanding applications and environmental operating conditions, each unit in these series has as a standard high quality bearings and components for high cycle rates and high life expectancy.



Heavy duty construction allows the reels to handle constant repetitive unwind/rewind motions of crane arms or forklift lifting mechanisms, ensuring reliable operation.



To consider less rugged alternatives than the Automation Series increases the likelihood of a breakdown while a crane or forklift is at full extension, thereby increasing the degree of difficulty of any repair work



ReCoila's Automation Series hose reels can handle all types of hose and cable combinations and working pressures.



For more information, please contact Mr Michael Pawson, Managing Director, ReCoila.

Unit 1/10 Melissa Place, Kings Park, NSW 2148

Email: mpawson@recoila.com

www.recoila.com



Written and prepared by Omentum Media Australia.

Val Pavlovic: 0413 869 589

mob: 0413 869 589.

email: admin@omentum.com.au

More from Food Processing & Preparation