Conquering an Age-Old Issue to Prevent Engine Failure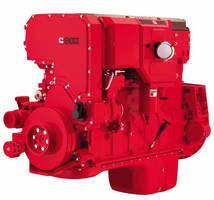 Keeping exhaust manifold joints secure to keep engines running has been an age-old issue for engineers due to the severe vibration, joint fatigue and temperature extremes present. When turbo mounting nuts vibrate loose and fall off, this can lead to engine failure and unscheduled downtime that can upset production schedules and delivery commitments.

To keep its industrial engine customers productively on the job, Columbus, IN, USA-based Cummins Inc., a global power leader of complimentary business units that design, manufacture, distribute and service engines and related technologies, sought the ideal solution to secure exhaust manifold joints when developing its Off-Highway Tier 3 QSX engine.

"Our industrial customers rely on our engines to get the job done, often for decades, so our engines must be up to the task," says Dale Gibby, a Cummins mechanical development engineer at the company's Columbus Technical Center in Columbus, IN. "Our goal was to design the QSX engine for rock-solid, real-world reliability in industrial applications ranging from farm tractors, road graders, and rock crushers to generators, air compressors, and drill and concrete pumpers."

To assure engine reliability in the field, Gibby was tasked to keep the QSX engine's exhaust manifold joints secure despite the severe vibration, joint fatigue and temperature extremes present in industrial field use.

Standard fasteners were less than satisfactory due to their susceptibility to vibration, thermal distortion, loosening due to thermal cycles, and wide variability in initial pre-load.

"For the exhaust manifold joint application, we avoided adhesives and nylon plugs because the high temperatures involved would burn them off," explains Gibby. "We avoided split washers and deformed threads because their stress concentration is a big concern for fatigue failure. Split washers, in fact, can cause more problems than they solve if they gouge surfaces and start fatigue cracks."

A tall spacer and a tall capscrew can add stretch in the bolted joint, which can help in some joint applications, according to Gibby. But for many engines, including the QSX engine, there is not enough package or under-the-hood space for this approach so it was not an option, he says.

Traditional locking fasteners do not address a basic design problem with the standard 60-degree thread form: that the gap between the crest of the male and female threads can lead to vibration-induced thread loosening. Stress concentration and fatigue at the first few engaged threads is also a problem, along with an increased probability of shear, especially in soft metals, due to its tendency toward axial loading. Temperature extremes can also expand or contract surfaces and materials, potentially compromising joint integrity.

Engineers, however, have successfully attacked these challenges while reducing component weight and enabling re-usability with the innovative Spiralock locking fastener. This re-engineered thread form adds a unique 30-degree wedge ramp at the root of the thread which mates with standard 60-degree male thread fasteners.

The wedge ramp allows the bolt to spin freely relative to female threads until clamp load is applied. The crests of the standard male thread form are then drawn tightly against the wedge ramp, eliminating radial clearances and creating a continuous spiral line contact along the entire length of the thread engagement. This continuous line contact spreads the clamp force more evenly over all engaged threads, improving resistance to vibrational loosening, axial-torsional loading, joint fatigue, and temperature extremes.

The Spiralock locking fastener has been validated in published test studies at leading institutions including MIT, the Goddard Space Flight Center, Lawrence Livermore National Laboratory, and British Aerospace. It has been used in extreme fastening applications with virtually no chance of recall: from the main engines of NASA's Space Shuttle; to the Saturn Cassini orbiter and Titan Huygens probe; to medical implants, artificial limbs, and heart pumps.

Gibby decided to pro-actively test the innovative Spiralock locking fastener, head-to-head against standard fasteners in an abusive, test-to-fail, thermal cycling test. The test compared how long typical stainless steel nuts vs. Spiralock stainless steel nuts stayed securely fastened on the exhaust manifold joints of a QSX industrial engine. Four nuts each were tested, with the Spiralock nuts silver plated for more consistent pre-load.

To heighten the test's challenge, a warped, worn-out exhaust manifold was used with over 1,250 hours of thermal cycles, and many gasket failures and turbo removals. The engine ran an abusive thermal cycle test, cycling from 400 °F to 1400 °F and back every 6 minutes. Besides the huge thermal swings, the engine was run past redline and at high idle, with the RPM all over the place, according to Gibby.

"In our test, we decided to stress the exhaust manifold joint fasteners much harder than any customer would in the field," says Gibby. "The goal was to provide reliable industrial engine performance that gets the job done without unscheduled downtime."

Because the test was designed to be real-world practical, all the nuts were significantly under-tightened to nominal load minus 3.5 sigma, a statistical measure of standard deviation.

"Ideally mechanics would work on industrial engines in an air conditioned garage with plenty of space and time," says Gibby. "But in the real world, if an industrial engine unexpectedly fails in the field, mechanics rush to get it back in service and production going, often while the engine and weather is hot. In those conditions, mechanics may not measure or fully torque exhaust manifold nuts. That's reality, and we wanted a fastener designed to reliably perform in the conditions our customers so often face."

The test-to-fail, thermal cycling test results:

Under the vibration and extreme thermal cycles, 3 of the 4 typical stainless steel nuts worked loose and fell off within 2 hours, leading to blown joints and a stopped engine.

But as Gibby describes, "The Spiralock nuts never fell off and were still secure over 18 hours after installation with no signs of backing off. We stopped the test at that point. Had the nuts been tightened to nominal torque, who knows how long they would have lasted? It's amazing that we could under-tighten the nuts that much on a warped, worn-out manifold - yet they didn't fall off."

"We concluded that the Spiralock locking fasteners will survive under-torqued installations where standard nuts would fail," says Gibby. "The result is more reliable engine performance that allows Cummins customers to get their jobs done in the toughest of conditions. Those with an engine in the field for many years will especially benefit."

Another advantage of the Spiralock nuts is that installers can spin them on just like a regular nut, according to Gibby. Split nuts, on the other hand, cannot spin so installers must turn them with a wrench the entire thread length before clamping them down.

"Spiralock nuts are a great alternative to split nuts, with much easier application," says Gibby.

Since Cummins put the QSX industrial engine into production with the Spiralock nuts several years ago, there have been no issues with the turbo mounting nuts on exhaust manifold joints to Gibby's knowledge.

At the suggestion of the chief engineer at a Cummins plant, the use of the innovative locking fasteners has expanded to many Cummins heavy-duty engines, including on-highway and off-highway applications.

"On industrial engine applications with vibration, thermal or joint fatigue issues, the Spiralock locking fasteners are one of our top options," concludes Gibby. "As engines get more sophisticated and emission standards more stringent, they'll undoubtedly play a role in helping Cummins to assure joint reliability and industrial engine performance for our customers."

Headquartered in Columbus, Indiana, Cummins serves customers in approximately 190 countries and territories through a network of more than 500 company-owned and independent distributor locations and approximately 5,200 dealer locations. As a corporation of complimentary business units that design, manufacture, distribute and service engines and related technologies, including fuel systems, controls, air handling, filtration, emission solutions and electrical power generation systems, Cummins reported sales of $10.8 billion in 2009.

Spiralock is a division of Emhart Teknologies, a leader in applied fastener technology, owned by the Stanley Black & Decker Corporation. Spiralock is used for design challenges in a wide range of industries including agriculture, construction, heavy truck, automotive, aerospace/military, medical, food processing, rail, and oil drilling. Production changeovers to the fastener are typically quick and seamless, often requiring just an exchange of traditional nuts, wire inserts or simply drilling out and re-tapping existing parts stock that have unreliable standard tapped holes.


More from Laboratory and Research Supplies and Equipment