Connectors work in temperatures from -40 to 185 deg F.
Press Release Summary: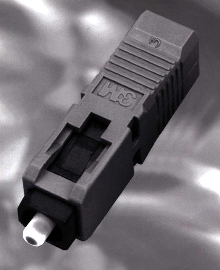 Hot Melt ST, SC, and FC fiber optic connectors are approved for indoor and outdoor use as single-mode and multimode connectors. They meet EIA/TIA 568B standards for outdoor applications, and incorporate reheatable adhesive technology and physical contact, pre-radiused zirconia ceramic ferrule technology. Insertion loss values are less than 0.2 dB. Single-mode and multimode units are tested to 1550 nm and 1300 nm wavelengths, respectively.
---
Original Press Release:

3M Indoor/Outdoor Fiber Optic Connectors More Efficient, Cost Effective


New Temperature Range For 3M Hot Melt Connectors Benefits LAN Installers

NetWorld+Interop -- LAS VEGAS, Nevada - May 7, 2002 - Data networks around the world now can be installed and maintained more efficiently and cost-effectively with high-performance, easy-to-use fiber optic connectors that operate both outdoors and indoors.

Long proven in indoor operation, 3M(TM) Hot Melt ST, SC and FC Connectors are now approved for temperatures from -40°C to 85°C (-40°F to 185°F), extending the previous range of -40°C to 60°C for both single-mode and multimode Hot Melt connectors. The 3M Hot Melt Connectors meet EIA/TIA 568B standards for outdoor applications, ensuring reliable performance.

"Instead of having to order and inventory separate epoxy connectors and termination kits for the temperature extremes of outdoor applications, installers now can use the same 3M Hot Melt Connectors both indoors and outdoors," said Robin Pollock, marketing manager, 3M Telecom Enterprise Department. "This significantly simplifies inventories and saves valuable time."

3M's Hot Melt connectors save time and money through the combination of advanced adhesive technology and physical contact (PC) zirconia ceramic ferrule technology. The adhesive can be reheated to allow fiber repositioning within the connectors, so virtually all connections are successful and neither connectors nor time are wasted. The PC zirconia ceramic ferrule is pre-radiused, which assures signal integrity and operating stability by maintaining optical contact regardless of environmental changes.

Both single-mode and multimode connectors have insertion loss values that are typically less than 0.2dB, which assure clear signal transmission by minimizing power loss in the connection. The single-mode 8100 ST, 8200 FC and 8300 SC are tested at 1310 nm and 1550 nm wavelengths. The multimode 6100 ST, 6200 FC and 6300 SC are tested at 850 nm and 1300 nm wavelengths.

These connectors are easy to use because preloaded adhesive eliminates syringes and epoxy mixing. Hot Melt connectors require less than two minutes to terminate, and a single kit provides everything needed to terminate all models: ST, FC and SC connectors for both single-mode and multimode applications. This eliminates confusion and lost time.

About 3M Telecommunications
3M telecommunications products, technologies and services allow the world's service providers to offer high bandwidth connectivity with network solutions from the central office to the subscriber. The company's focus consists of technologies and services in telecom access, enterprise networks and optical transport systems and components for telecommunications OEMs. With a 40-year history in the telecommunications industry, 3M customers include every major telecommunications service provider in the world.

About 3M
3M, a $16 billion diversified technology company with leading positions in telecommunications, electronics, industrial, consumer and office, health care, safety and other markets, celebrates its 100th anniversary in 2002. Headquartered in St. Paul, Minnesota, the company has operations in more than 60 countries and serves customers in nearly 200 countries. 3M businesses share technologies, manufacturing operations, brands, marketing channels and other important resources. 3M is one of the 30 stocks that make up the Dow Jones Industrial Average and also is a component of the Standard & Poor's 500 Index. Additional information about the company is available on the Internet at www.3M.com.


More from Machinery & Machining Tools