Connectors and Receptacles feature quick disconnect design.
Press Release Summary: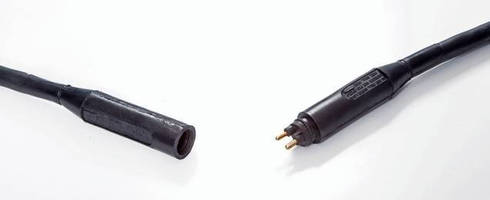 Rated at 15 A and 600 V, Models FTP-2 and MTP-2 consist of 2-wire polarized plugs, connectors, and receptacles with IP68 rating for water and dust. Units are submersible to 6 ft of water when caped or mated and can be molded to multi-conductor type SOOW 600 V cable. Available with 16, 14, 12, and 10 AWG wire cable sizes, connectors are suitable for broad range of power applications.
---
Original Press Release:
Quick Disconnect Connectors and Receptacles
Duraline®, a leading manufacturer of Rubber Molded Power Connectors, Lighting Streamers, Hand lights and other electrical power distribution systems for over 50 years, is now offering 2 wire plugs and connectors ranging from 1 amp thru 30 amps 600 volt max. FTP-2 and MTP-2 Duraline 2 wire 15 amp IP68 rated polarized plugs, connectors & receptacles - these quick disconnect connectors are IP68 Rated for Water and Dust and are submersible to 6' of water when caped or mated. They can be molded to multi conductor type SOOW 600 volt cable. Available cable sizes are 16,14,12 and 10 Awg. These molded to cable connectors are suitable for a broad range of power applications. Featuring 2 pole rubber molded weatherproof / watertight 2 wire AC or DC products which range from a single Ampere to 100 Amperes. If your requirement cannot be filed by one our standard products we can custom design one that does. Our custom design process allows for quick turnaround and tool design and can accommodate short and long runs. Many styles IP68 Rated Watertight Submersible. Duraline's expertly engineered connectors, plugs and receptacles are factory mutual tested and approved, exceed O.S.H.A and NEMA requirements, and are suitable for IEC Class IP67 and NEMA Class 6 applications. Duraline's CAM connectors, temporary lighting systems, and vapor proof string and streamer lights have been used for countless purposes over the years. Typical applications and industries for Duraline's catalog of electrical products include food processing, highways, amusement parks, various entertainment events, cruise lines, shipyards, oil refineries, sewage treatment plants, construction sites, automotive manufacturing facilities, medical facilities, and various other indoor and outdoor situations. Duraline, a division of J.B. Nottingham & Co., Inc., is a leading manufacturer of safety engineered, electrical power distribution systems designed to withstand rough handling and severe weather conditions. Established in 1946 as a supplier of heat-treating distribution systems to the US Navy, Duraline's principal offices and manufacturing facilities are located in Deland, Florida. Duraline sells and services its specially engineered systems throughout the United States and Canada. For more information on the Duraline products, contact Duraline, 1731 Patterson Ave, Deland, FL 32724. Call: 386-873-2990, or Fax: 386-873-2995. Visit Duraline on the World Wide Web at www.jbn-duraline.com.
More from Material Handling & Storage