Connectivity Devices can accommodate any network requirement.
Press Release Summary: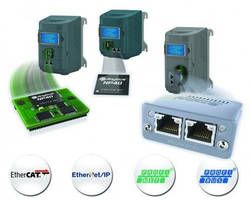 Targeting drives and motion applications, Anybus CompactCom 40-series enables drives manufacturers to comply with such profile specifications as PROFIdrive, EtherCAT DS402, and transparent DS402 on other networks. Process data latency is lower than 15 µsec, and 1,500 bytes of process data can be transferred in each direction. Accelerating testing and compliance, products are pre-certified for network conformance by all major network organizations.
---
Original Press Release:

Handle Drives or Motion Profiles for any Network with Anybus CompactCom



HMS Industrial Networks now presents a new solution for handling profiles - mainly targeting drives and motion applications. The extension to the new Anybus CompactCom 40-series enables drives manufacturers to comply with common profile specifications such as PROFIdrive, EtherCAT DS402, and transparent DS402 on other networks.



Trends such as Industry 4.0 and the Industrial Internet of Things (IIoT) mean that more and more industrial devices are getting connected to industrial networks. This is especially true when it comes to drives or inverters which are the most networked devices of all – 3.5 million inverters and 800,000 servo drives are expected to be networked during 2015. But developing and maintaining connectivity to different networks is both time-consuming and resource-demanding – especially if you want to comply to drive and motion profiles for several networks. Now, by integrating support for Anybus CompactCom into a drive, device manufacturers will be able to offer wide fieldbus and industrial Ethernet connectivity along with integrated profile support to their customers - all through one, single development project.



Multi-network connectivity with profiles for drives – How it works

Different networks have different standards for how to communicate with a drive (for example, to tell the drive to operate at a certain speed). These so called "drive profiles" or "motion profiles" are supported by the Anybus concept through a Profile Driver Package — a software stack which is implemented into the drive during development. The ready-made source code from HMS can be quickly integrated into the processor of any drive.



Consequently, the profile-specific data is not actually "translated" inside the Anybus CompactCom. Rather, it passes through the module's transparent channel unchanged and the conversion is done in the drive utilizing HMS' Profile Driver Package. The DS402-based Profile Driver can be used to handle any CAN-based profile – not just drives and motion profiles – on any network. For example:

EtherNet/IP: Transparent DS402

EtherCAT: DS402, SEMI, Encoder

PROFINET/PROFIBUS: PROFIdrive



The fast track to network connectivity for drives

The Anybus CompactCom 40-series enables drives manufacturers to comply with the demands from all major networks, even for demanding high-performance standards such as EtherCAT or PROFINET 2.31. The 40-series is especially designed for demanding applications requiring low latency and high data throughput. (Process data latency is lower than 15µs and 1500 bytes of process data can be transferred in each direction).



The 40-series products are pre-certified for network conformance by all the major network organizations which substantially speeds up testing and compliance. HMS also offers implementation help as a packaged service for drives manufacturers.



What is Anybus CompactCom?

Anybus CompactCom is a series of communication products which are integrated into an industrial device to offer connectivity to different industrial networks. CompactCom comes in chip, brick or module format, allowing the user to choose level of integration.



HMS Industrial Networks

HMS Industrial Networks is the leading independent supplier of products for industrial communication including remote management. HMS develops and manufactures solutions for connecting automation devices and systems to industrialnetworks under the Netbiter, Anybus and IXXAT brands.



Development and manufacturing take place at the headquarters in Halmstad, Sweden and in Weingarten, Germany. Local sales and support are handled by branch offices in China, Denmark, France, Germany, India, Italy, Japan, UK, and USA. HMS employs over 350 people and reported sales of 57 million EUR in 2013. HMS is listed on the NASDAQ OMX in Stockholm.



HMS Industrial Networks Inc

35 E. Wacker Dr, Suite 1700

Chicago , IL 60601

USA

- -

Phone : 13128290601

Fax : 13126292869

us-sales@hms-networks.com



HMS Industrial Networks

Stationsgatan 37

30245 Halmstad

Sweden

www.anybus.com

NALIN Michela

Phone : +46 351729 93

Fax : +46 351729 09

min@hms.se

More from Sensors, Monitors & Transducers