Connecting Pins extend life of conveyor-belt splices.
Press Release Summary: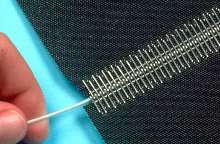 Clipper® Duralink(TM) and DuraStainless(TM), for wire-hook splices, feature nylon coating that provides 10x more abrasion resistance compared to nylon-covered pins. Coating lubricity reduces wear on inner radius of fastener loops. Duralink pins, with coating extruded over braided stainless steel cable, provide flexibility to accommodate troughing conveyors or crowned pulleys. DuraStainless pins, built on solid stainless wire core, help prevent ripple. Diameters range from .065-.125 in.
---
Original Press Release:
New Clipper® Duralink(TM) And Durastainless(TM) Connecting Pins Offer Up To 10 Times More Life In Wire-Hook Conveyor Belt Splices
DOWNERS GROVE (IL), OCT. 22, 2003 -- Two new connecting pins for Clipper® wire hook belt fasteners from Flexco feature an advanced nylon coating test-proven to provide ten times greater abrasion resistance than conventional nylon covered pins. New Clipper Duralink(TM) and A(TM) connecting pins offer extended service life in even the most abusive light/medium-duty conveyor applications. The improved lubricity of their proprietary coating also reduces wear on the inner radius of fastener loops, extending over-all splice life and increasing conveyor uptime. Duralink pins, with their coating extruded over a braided stainless steel cable, provide flexibility to accommodate troughing conveyors or crowned pulleys. These are optionally available prefabricated as leader assemblies with smaller-diameter, rigid-wire leaders in 5' or 10' (1.5m - 3m) lengths that help guide or draw the pin through meshed hinge loops on wider belts. The leaders are then cut off and discarded. DuraStainless pins, intended for flat-belt applications, are built on a solid stainless wire core that provides rigidity for easy insertion and helps prevent ripple that might invite uneven splice wear. Both constructions are offered in three diameters .065" (1.7mm), .093" (2.4mm) and .109" (2.8mm), and Duralink also offers a larger .125" (3.2mm) diameter. All are available in custom-cut lengths, bulk coils or convenient Pin Paks(TM) (100 ft. / 30.5m dispensing units). Flexco, headquartered near Chicago, IL/USA, services the world's belt conveyors through subsidiaries operating in California, Michigan, Mexico, England, Germany, Australia, New Zealand and South Africa. Founded in 1907 and certified under ISO-9000 International Standards for Quality Management, the company markets its broad line of products through a worldwide network of distributors, under the brand names Flexco®, Alligator®, Clipper®, Tatch-A-Cleat®, and Flex-Lag®, and the trade name Rockline(TM). For more information, visit Flexco's website at www.flexco.com, or contact the Customer Service Department, Flexco, 2525 Wisconsin Ave., Downers Grove, Illinois, 605154200, USA. Phone (630) 971-0150; fax (630) 971-1180. For free literature only, call the Literature Hotline at 1-800-872-5216.
More from Fluid & Gas Flow Equipment