Conformal Coating System features motorized design.
Press Release Summary: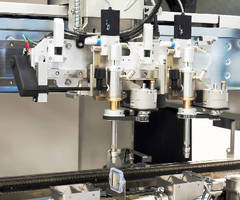 Available on Select Coat® SL-940 Conformal Coating System, Dual-Simultaneous Programmable Pitch feature utilizes 2 applicators to coat 2 parts simultaneously. Motorized system automatically repositions applicators to match programmed pitch, eliminating set-up time normally required during changeover. With Easy Coat® software, user can program when to use one or both applicators. Applicators can also be installed with tilt and rotate options to maintain agility of complex PCB layouts.
---
Original Press Release:
Nordson ASYMTEK's Dual-Simultaneous Programmable Pitch Cuts Conformal Coating Time in Half
Motorized design takes guess-work out of repositioning applicators during printed circuit board assembly and electronics manufacturing

SMTA International Booth 607

Carlsbad, CA, USA - Nordson ASYMTEK, a Nordson company (NASDAQ: NDSN), introduces Dual-Simultaneous Programmable Pitch on its Select Coat® SL-940 Conformal Coating System. With Dual-Simultaneous Programmable Pitch, two of the same conformal coating applicators are installed and operated simultaneously, coating two parts at the same time. Nordson ASYMTEK's unique motorized system automatically repositions the applicators to match the programmed pitch, eliminating the set-up time normally required during changeover which significantly speeds up the conformal coating process and makes it more accurate and repeatable.

Using Dual-Simultaneous Programmable Pitch reduces actual conformal coating process time by 50% and virtually doubles throughput performance, especially for high takt time conformal coating processes or when multi-up panelized or patterned parts with consistent spacing are used. This especially benefits automated high-mix production environments.

The pitch, or distance between applicators, is programmed and will adjust automatically. Unlike a manual bracket where the operator must reposition the applicator pitch at each changeover, programmable pitch eliminates operator dependency in adjusting the pitch for a specific part. This enhances quality and eliminates setup time due to adjustments and validation.

Programming is simple. The operator enters the product pitch when creating the program, starts the program, and the pitch of the applicators will automatically be adjusted to the programmed value. Configuring and accommodating coating for different parts is very flexible. Easy Coat® software lets the user program when to use one or both applicators.

"Having two valves operating simultaneously is definitely an advantage when coating, but having a system that automatically adjusts the pitch, so the system can make these adjustments on its own, really improves speed, throughput, consistency, and reliability," said Per Orla Jensen, product manager for Nordson ASYMTEK conformal coating products. "It eliminates operator dependencies and reduces manufacturing costs."

Dual-Simultaneous Programmable Pitch supports the full range of Nordson ASYMTEK conformal coating applicators, meeting current and future needs for conformal coating by simply being able to swap applicators. Applicators can also be installed with tilt and rotate options to maintain the unique agility of conformally coating complex PCB layouts.

For information contact Nordson ASYMTEK at info@nordsonasymtek.com or visit our website at www.nordsonasymtek.com.

About Nordson ASYMTEK
Nordson ASYMTEK, a world leader in precision fluid dispensing, conformal coating, and jetting technologies, designs and manufactures dispensing and coating systems, supported by an award-winning global applications and service network for over 30 years. To find out more, visit www.NordsonASYMTEK.com, or on social media.

About Nordson Corporation
Nordson Corporation delivers precision technology solutions that help customers succeed worldwide. Precision dispensing of adhesives, coatings, sealants, biomaterials, and other fluids, plastic extrusion and injection molding, electronics testing and inspecting, and surface preparation are supported by applications expertise and direct global support. Nordson serves consumer non-durable, durable and high-technology markets, specializing in packaging, nonwovens, electronics, medical, energy, transportation, construction, and product assembly. Founded in 1954, headquartered in Westlake, Ohio, USA, Nordson has operations and support offices in 30+ countries. Connect with Nordson at www.nordson.com and on social media.

For information:
Nordson ASYMTEK:
Roberta Foster-Smith
Tel: +1.760.431.1919
Email: roberta.foster-smith@nordsonasymtek.com

International Offices:
Headquarters, Carlsbad, CA: +1.760.431.1919 www.nordsonasymtek.com
China: +86.21.3866.9166 www.nordsonasymtek.com/cn
Europe: +31.43.352.4466
India: +91.44.4353.9024
Japan: +81.3.5762.2801 www.nordsonasymtek.com/jp
Korea: +82.31.765.8337 www.nordsonasymtek.com/kr
Southeast Asia: +65.6796.9515
Taiwan: +886.2.2902.1860
More from Software