Confocal Module resolves line widths below 0.2 nm.
Press Release Summary: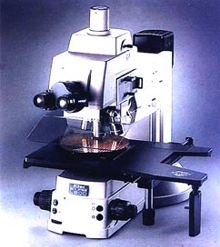 Confocal module allows sub-micron confocal inspection using LU Series CFI60 objectives without loss of numerical aperature (NA). Available in real-time, confocal images are visible through eyepieces or its vertical port. Module offers 2 confocal modes, tilting binocular tube, 2:1 intermediate zoom for eyepieces and vertical port, 150x (NA 1.2) water immersion objective lens, and HMX bayonet mount. Illumination is provided by L200 system.
---
Original Press Release:
NIKON IC INSPECTION MICROSCOPES ATTACHMENT OFFERS OUTSTANDING OPTICS AND REAL TIME CONFOCAL IMAGING

MELVILLE, NY, January 30 - Nikon has introduced a new Confocal Module attachment for Eclipse L200 Series microscopes that combines the advantages of both confocal imaging and CFI60 optics to deliver unprecedented optical performance. This combination allows sub-micron confocal inspection using new LU Series CFI60 objectives, which exceed the working distance of the previous series without the loss of numerical aperature (NA). The new module also features increased resolving power and height discrimination.

Confocal images are visible in real time through the eyepieces and also the vertical port for video, film or digital photography. There are two confocal modes: CF1 (larger pinholes for brightness) and CF2 (smaller pinholes for increased confocal effect). This module also features a tilting binocular tube, a vertical port for video, a 2:1 intermediate zoom for the eyepieces and vertical port, plus a HMX bayonet mount for mercury illumination of the confocal disc. Illumination for conventional observation (brightfield, darkfield and DIC) is through the normal L200 illumination system.

The Confocal Module now provides the ability to resolve line widths below 200 nanometers (0.2 nm), to approximately 180 nm with dry objectives using NA 0.95. The 150x (NA 1.2) water immersion objective lens can be used to observe line widths below 150 nm for failure analysis.

Used either independently or in combination with a wafer loader in an automated system, the L200 series is designed to view, image, and document wafers, photo masks, reticles, and a variety of substrates-all with exceptional precision. These microscopes can accommodate wafers up to eight inches in diameter, and masks up to six inches in diameter.

Nikon's patented CFI60 infinity optical system offers images with better clarity, higher contrast, and minimal flare, while providing the industry's best ergonomics, safety and cleanliness. The system offers professionals in IC design, engineering, and manufacturing the best optical corrections, longest working distances, and highest light microscopy performance level available overall. It is designed to accommodate the most advanced requirements of today's labs.

Not only do the optics offer the best combination of long working distances and high numerical apertures even at the extremes of magnification, they produce images that are brighter with better edge-to-edge definition and exceptional signal-to-noise ratios. The signal-to-noise ratio when using darkfield observation techniques is three times greater than in previously available systems.

Nikon's LU plan objectives allow the use of multiple observation techniques, including brightfield, darkfield, and differential interference contrast (DIC), all with a single objective. For DIC, a single prism in the nosepiece works for all magnification ranges. Field diaphragm adjustments have been eliminated with the newly designed epi-illuminator, and an easy-focusing target enables rapid focusing on difficult specimens, such as bare wafers and substrates. The patented sextuple nosepiece uses encoders that offer greater positioning accuracy and double the life expectancy of previous technologies.

Eclipse L200 microscope stands are exceptionally rigid, for dramatically enhanced vibration resistance. They not only provide the best optical performance, but also are the most comfortable to use over long periods of time. Exceeding S2-93A and S8-95 standards, they are built according to the strictest ergonomic parameters to provide stress-free operation.
Related