Cone and Plate Viscometers enhance real time graphing of samples.
Press Release Summary: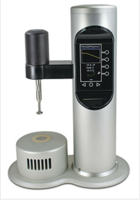 Ensuring accuracy and repeatability using motor speed control, Cone and Plate Viscometers come with high stability temperature controlled plate on which samples are tested. Monitoring of changes during measurement of samples, units come with preheat function. Offering extended warranty, viscometers send date and time stamped results output to printer.
---
Original Press Release:
Introducing the New Cone & Plate Viscometer
High Accuracy Viscosity Measurement of Non-Newtonian Paints & Coatings
Viscosity measurement of coatings is essential at each stage of the manufacturing process to ensure consistent quality standards. Many parameters can affect the rheological behavior of a finished coating resulting in undesirable effects such as inconsistent performance, poor levelling or sagging. The use of high precision measuring instruments is therefore essential in quality control to prevent such problems occurring during formulation, manufacture and application. This viscometer is specifically designed to provide stringent testing conditions to allow the measurement of these materials as the viscosity changes according to the shear stress that is applied.
Precise Measurement - High stability motor speed control ensures accuracy and repeatability during each test. Real-time high resolution graphing allows monitoring of changes during measurement providing identification of inconsistencies between samples.
Advanced Temperature Monitoring - The viscometer utilizes an integrated high stability temperature controlled plate onto which the samples are applied to test. A preheat function allows rapid stabilization of sample temperature which is accurately controlled throughout the measurement process.
Features:
Real time high resolution graphing of test samples
Results displayed on screen immediately after test
High stability motor speed control for accuracy and repeatability of measurement
Easy clean design - even in the harshest environment both screen and chassis are easy to clean
Date / time stamped results output to printer
Annual re-calibration can be performed by user
Extended warranty
Item Nos. VI-976001, VI-976003, VI-976005
Contact:
Sherri B. Thompson
Advt/Mktg Manager
Paul N. Gardner Company, Inc.
316 NE 1st Street,
Pompano Beach,FL 33060
Phone: (954) 946-9454
Julia LaShure
Marketing Department
Email: jlashure@gardco.com
Url: Gardco.com
More from Paints & Coatings