Conductivity Sensor integrates into inline systems.
Press Release Summary: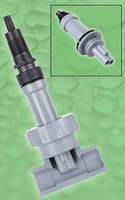 Suited for cooling tower monitoring and other processing environments, CS8000TC electrode has conductivity cell constant of k=1.0 ±10% for wide measurement range within its temperature/pressure of 60°C/100 psig. Temperature compensation is included with choice of 4 sensor types: 10K, 30K NTC, Pt100, and Pt1000 RTD. Keyed flange facilitates sensor orientation, detachable cable assembly negates need to pull cable through conduit, and sensors can be removed without tools for cleaning/calibration.
---
Original Press Release:

Sensorex Adds Conductivity to Modular S8000 Industrial Platform



CS8000TC cooling tower conductivity sensor and flow cell for convenient TDS monitoring



Garden Grove, California – Sensorex has expanded its S8000 series modular electrode platform with the addition of the CS8000TC conductivity sensor. The new electrode delivers accurate conductivity measurement for cooling tower monitoring and a host of additional processing environments.



The CS8000TC sensor integrates easily into in-line systems. Its keyed flange facilitates sensor orientation. A detachable cable assembly eliminates the need to pull cable through a conduit and sensors can be removed without tools for cleaning and calibration. The sensor's conductivity cell constant is k=1.0 +/-10% for a wide measurement range within its temperature/pressure of 60°C/100psig. Temperature compensation is included with a choice of four sensor types. 10K, 30K NTC, Pt100 and Pt1000 RTD options enable matching to existing conductivity transmitter or controllers.



Sensorex's S8000 series modular platform saves users time and money by configuring a custom system that can grow and change with process needs. The platform includes pH, ORP (Redox) and conductivity electrodes, a choice of mounting hardware, and a variety of electronics options including unity gain pre-amplifiers and blind 4 – 20mA transmitters. If monitoring needs change, users simply update the applicable module without replacing the whole system and only need to stock one sensor for a range of installation considerations.



To learn more about the modular S8000 platform, and the company's full range of sensing products, visit www.sensorex.com, email sales@sensorex.com, or call +1 714-895-4344.



Visit Sensorex's online news archive at: http://halmapr.com/news/sensorex/



About Sensorex:

Sensorex is a global leader in design and manufacture of quality sensors for water applications. The company offers more than 2000 sensor packages for pH, ORP, dissolved oxygen, free chlorine, chlorine dioxide and other specialty measurements, as well as a full line of sensor accessories. Its expert technical support engineers solve analytical sensor challenges with custom designs and off the shelf products. Headquartered in California, with a global distributor network, Sensorex is a subsidiary of Halma plc, an international market leader in safety, health and sensor technology.



Follow Sensorex on:    

Follow Sensorex on Twitter       Follow Sensorex on YouTube       Follow Sensorex on Facebook       A Halma Company



Company Contact:



Sensorex

11751 Markon Drive

Garden Grove, CA 92841 USA

Tel: +1.714.895.4344

Fax: +1.714.894.4839

Email: sales@sensorex.com

Website: www.sensorex.com



Press Contact:

Halma Holdings PR Services

Lisa Wallner

11500 Northlake Drive, Suite 306

Cincinnati, OH 45249

Tel: +1 513.326.8045

Fax: +1 513.772.5507

Email: lisa.wallner@halma.com

Website: www.halmapr.com



Halma PR Profile:

Halma PR Services provides a range of media relations services to support Halma plc subsidiaries. Halma subsidiaries operate world-wide and make products for hazard detection and life protection.



Follow Halma PR on:      Follow Halma PR on Twitter       Follow Halma PR on LinkedIn       Follow Halma PR by RSS

More from Packaging Products & Equipment