Conductivity Meter offers 16 measurements/second.
Press Release Summary: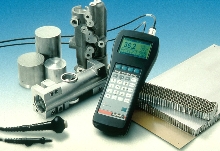 SIGMASCOPE(R) SMP10 measures electrical conductivity of non-ferrous metals, which provides information about the material's composition, microstructure, and mechanical properties. It offers 4 measurement frequencies of 60, 120, 240, and 480 kHz without changing measurement probe. Menu-driven software stores 100 application memories for calibrations and 20,000 measurements. Measurement range is 0.5 to 65 MS/m, and accuracy at room temperature is +/-0.5%.
---
Original Press Release:
Next Generation Fischer SIGMASCOPE(R) SMP10 Raises Electrical Conductivity Measurement To New Levels

WINDSOR, CT (March 25, 2002) -Fischer Technology raises electrical conductivity measurement of non-ferrous metals to a new dimension. The next generation SIGMASCOPE(R) SMP10 is loaded with new technology, software features and improvements.

The compact, portable SIGMASCOPE SMP10 measures electrical conductivity, i.e., how well a metal conducts electrical current, which also provides information about its composition, microstructure and mechanical properties.

The SIGMASCOPE SMP10 conductivity measurement is ideal for the production, processing or inspection of all non-magnetic metals, even stainless steel. The SMP10 can also be used for measuring the hardness and strength of heat-treated materials, such as aluminum alloys, which is critical in aircraft manufacture and maintenance.

Additional applications include measuring phosphor content in copper; monitoring deposition process, such as CU-Cr-alloys; and determining the degree of purity and verifying the homogeneity of alloys.

Measuring electrical conductivity using the eddy current method according to ASTM E 1004 and DIN EN 2004-1, the SMP10's phase-sensitive measurement signal evaluation enables a contact-free determination of conductivity, for example, under paint or synthetic coatings up to 500 microns thick. This also minimizes the influence of surface roughness.

The new SIGMASCOPE SMP10 offers four measurement frequencies of 60 kHz, 120 kHz, 240 kHz and 480 kHz without changing the ES40 measurement probe. Also, a temperature sensor integrated into the ES40 probe provides automatic temperature compensation of the measurement.

The SMP10's menu-driven, user-friendly software stores 100 unique application memories for calibrations and 20,000 measurements in up to 4,000 measurement data blocks.

Offering up to 16 measurements a second, the SMP10 measurement range is 0.5 - 65 MS/m or 1-112% IACS and measurement accuracy at room temperature is +/-0.5%. A rechargeable battery provides a minimum of 20 hours of trouble-free operation.

Fischer has been an innovative leader in the field of non-destructive thickness measurement and material testing instruments since 1953. Solutions are available for coating thickness measurement using the X-Ray fluorescence, beta backscatter, magnetic induction, eddy current and coulometric methods. Fischer also offers solutions for measurement of microhardness, conductivity, ferrite content and porosity testing.

For more information about all the ways the SIGMASCOPE SMP10 can help solve your non-ferrous electrical conductivity measurement challenges, contact Fischer Technology, Inc., 750 Marshall Phelps Rd., Windsor, CT 06095. 1-800-243-8417. In CT (860) 683-0781. FAX: (860) 688-8496. E-mail: info@fischer-technology.com
Web site: www.fischer-technology.com.
More from Laboratory and Research Supplies and Equipment