Conductive Liquid Level Controls offer 2-point charge/discharge.
Press Release Summary: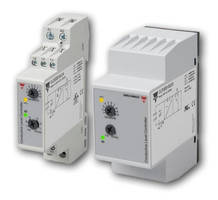 DIN-rail mounted in 17.5 mm housing, CLD2EB1BU24 accommodates universal 24–240 Vac/dc supply voltage and provides 3 sensitivity ranges and fine tune adjustment (250 Ω to 500 kΩ). With 35 mm-wide, 11-pin, DIN-rail mountable, plug-in housing, CLP2EB1Bxxx provides one mid-range sensitivity adjustment (5–150 kΩ) and 24 Vdc or 24/115/230 Vac operating voltages. All models provide precise filling or emptying control of liquid levels between 2 points and have SPDT relay output rated to 8 A, 250 Vac.
---
Original Press Release:

Level Controllers for Conductive Liquids



Buffalo Grove, IL — CARLO GAVAZZI is pleased to announce the expansion of their Conductive Level Controller product line, which enables customers to have easy-to-use, cost effective level control with a broad range of conductive liquids.  Each of the new controllers provide precise filling or emptying control of liquid levels between two different points.  Two basic styles are available, in order to meet a diverse range of application requirements. All of the models provide one SPDT relay output, which is rated up to 8A, 250VAC.



The powerful but slim CLD2EB1BU24 provides three sensitivity ranges plus a fine tune adjustment from 250Ω to 500kΩ, enabling for control with a wide variety of liquids, such as salt water, sewage and chemicals. DIN rail mounting and universal 24-240VAC/DC supply voltage simplifies installation, and the 17.5mm housing width minimizes panel space requirements.



For more cost sensitive applications, the economically priced CLP2EB1Bxxx retains the reliability and many features of the CLD2EB1BU24, at a lower price. This model provides a single mid-range sensitivity adjustment from 5kΩ to 150kΩ, and supports many common applications. Mounted via an 11-pin DIN-rail mountable socket, four different models are available for operating voltages of 24VDC, 24VAC, 115VAC or 230VAC.



The new Conductive Level Controllers offer a reliable and cost effective solution for level measurement in markets such as Agriculture and Water/Waste Water. Technical specifications include:



CLD2EB1BU24 DIN Rail Mount Housing:

• Two-point charging/discharging

• 250Ω to 500kΩ sensitivity

• 24 to 240VAC/DC power supply

• 17.5mm wide DIN rail housing

• One 8A/250VAC SPDT relay output



CLP2EB1B Plug-in Housing:

• Two-point charging/discharging

• 5kΩ to 150kΩ sensitivity

• 24VDC, 24VAC, 115VAC, or 230VAC power supply

• 35mm wide, 11-pin plug-in housing

• One 8A/250VAC SPDT relay output



In addition to the new CLD2EB1B Series, the entire family of Conductive Level Controllers, including single-point control with timer, 4-point control, and cascadable controllers are available from CARLO GAVAZZI's North American network of sales offices and distributors, or at www.GavazziOnline.com.



Questions regarding this press release should be directed to:  info@carlogavazzi.com



CARLO GAVAZZI Inc.

750 Hastings Lane

 Buffalo Grove, IL  60089

Phone: 847.465.6100    

Fax: 800.222.2659    

Email:  Sales@CarloGavazzi.com

Related