Condition Monitor provides round-the-clock surveillance.
Press Release Summary: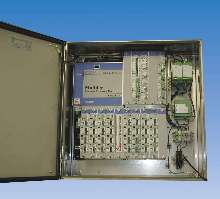 Multilog Condition Monitoring Unit enables machine data acquisition in remote, dangerous, or difficult-to-reach locations. It continuously processes overall vibration, acceleration, velocity, enveloped acceleration, and other measurements. Working with Machine Analyst On-Line software, monitor captures alarms and records data on set schedule. Modular, scalable unit supports both Ethernet and RS-485 communications.
---
Original Press Release:

The SKF® Multilog Condition Monitoring Unit Provides Round-the Clock Surveillance for Improved Machine Reliability


SAN DIEGO, CALIFORNIA, USA-The next-generation hardware device for permanently installed on-line surveillance systems is now available from SKF® Reliability Systems. The original version of the SKF Multilog Condition Monitoring Unit (CMU) is already being used in more than 50,000 installed channels in industries such as pulp and paper, HPI, mining, construction and automotive.

The SKF Multilog CMU is a continuous machinery monitoring system that allows quick and automatic data acquisition in remote, dangerous or difficult to reach locations. It processes overall vibration, acceleration, velocity, enveloped acceleration and other measurements continuously, enabling users to spend less time collecting data and more time on the analysis and diagnosis of machine problems. Working with the SKF Machine Analyst On-Line software, it automatically captures alarms and records data on a set schedule, making problem detection and analysis on key production machine assets timely, reliable and efficient.

New features include the support of both Ethernet and SKF proprietary RS-485 communications, for compatibility with SKF's popular Local Monitoring Units (LMU) and /or Monitor Interface Modules (MIM). Modular and scalable, the CMU can now be more easily configured to meet a facility's operational and budgetary requirements, while the unit's versatile platform allows the addition of future capabilities: Users may start with as few as four channels and expand as needed.

SKF Machine Analyst software is the core platform in the SKF Machine Analyst Suite. This suite also supports the Microlog® line of portable data collectors/analyzers, the Diagnostic Instruments line of data collectors, and the MARLIN® line of personal data assistants for Operator Driven Reliability. It also provides seamless integration with the @ptitude(TM) Industrial Decision Support System. Using SKF's complete solution, a plant's reliability professionals can create a single program that provides the range of analysis and diagnostic tools needed to support teamwork and consistent, reliable decision making across functional lines.

SKF Reliability Systems is part of the worldwide SKF Service organization. The SKF Service Division provides end users with a full range of bearings and related products and services through a worldwide network of approximately 7,000 authorized distributors. The organization's condition monitoring and service businesses extend machine service life, reduce overall maintenance costs and improve plant efficiency by creating integrated solutions for end-users utilizing advanced technology and reliability maintenance management.

SKF Reliability Systems
4141 Ruffin Road
San Diego, California 92123 USA

More from Thermal & Heating Equipment