Condensate Pumps eliminate flaring to atmosphere.
Press Release Summary: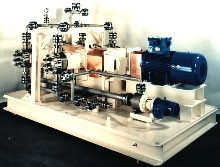 Closed-Drain leak-tight condensate re-injection pumps provide flow rates from 10 to 157 barrels/hr. They have two PTFE diaphragms that are sandwiched and operate in balance, providing double containment with zero-leakage, run-dry tolerance, and overload protection. Unaffected by dirt, moisture, and contaminants, pumps accept high suction pressure up to 5,000 psi and control fluid being drawn off. Pumps eliminate flaring to atmosphere through closed-loop pumping.
---
Original Press Release:
Condensate Re-Injection Pumps Eliminate Flaring Through Closed-Loop Pumping

A series of condensate re-injection pumps for new or retrofit applications that eliminate flaring to the atmosphere through closed-loop pumping are being introduced by AMERICAN LEWA, Inc. of Holliston, Massachusetts.

LEWA Closed-Drain Condensate Pumps feature sealless, hydraulically actuated diaphragm pumps combined with variable frequency drives to provide easily controlled flow rates ranging from 10 to 157 barrels per hour. Designed to eliminate flaring, these condensate re-injection pumps are supplied as complete packaged systems, available for new or retrofit installations.

Unaffected by dirt, moisture, and contaminants, LEWA Closed-Drain Condensate Pumps accept high suction pressure up to 5,000 psi and control the fluid being drawn off. These leak-tight pumps have two PTFE diaphragms that are sandwiched and operate in balance, providing double containment with zero-leakage, run-dry tolerance, and overload protection.

LEWA Closed-Drain Condensate Pumps are priced from $15,000.00 up, depending upon customer requirements. Literature and pricing are provided on request.

For more information contact:
AMERICAN LEWA, Inc.
Joseph F. Murray, Sales Manager Packages
132 Hopping Brook Rd.
Holliston, MA 01746
(888) LEWA123 FAX (508) 420-8615
e-mail: sales@amlewa.com
www.amlewa.com

More from Thermal & Heating Equipment