Condensate Pump is rated for 300 psi operation.
Press Release Summary: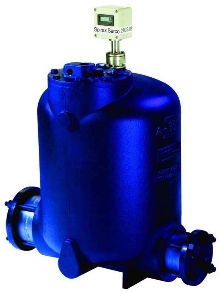 Pressure-powered Pivotrol® PTF-HP is designed for steam system condensate recovery in rapid-cycling process environments under elevated pressure and temperature conditions. PowerPivot® technology replaces pins and linkages with pivots, minimizing friction and wear. Damper uses hydraulic inertia of collected condensate to reduce mechanical shock as valve actuators shift. Self-contained, self-regulated unit is offered with 300-lb flanges.
---
Original Press Release:
Pivotrol® PTF-HP Condensate Pump Now Available With High Pressure Rating

BLYTHEWOOD, SC - Spirax Sarco, Inc., offers the Pivotrol(R) PTF-HP Pressure Powered Condensate Pump with full warranty coverage at 300 psi operation. This pump is engineered for dependable steam system condensate recovery in rapid-cycling process environments and under elevated pressure and temperature conditions. The Pivotrol PTF-HP pump is designed as a solution to excessive maintenance and energy consumption, heat exchanger stall, waterhammer and erratic steam system performance.

The Pivotrol PTF-HP, incorporating reliable PowerPivot(R) technology, is backed by a three million cycles or three year warranty, with a lifetime spring warranty. A five million cycles or five year extended warranty is available as an option. Spirax Sarco has incorporated an integral electronic cycle counter to monitor the pump's performance and confirm warranty coverage.

Reliable PowerPivot technology replaces pins and linkages with pivots, which reduce friction and wear, lengthening service life. A special damper uses the hydraulic inertia of the collected condensate to reduce mechanical shock as the valve actuators shift.

The unit is self-contained and self regulated by mechanical controls. Unlike electrically powered condensate pumps, there are no dynamic seals, glands or packings to fail under elevated temperature and pressure. The Pivotrol PTF-HP Pump, offered with 300-lb flanges as standard, is compatible with sanitary/hygienic processing.

Spirax Sarco

Spirax Sarco is the world's leading provider of steam system solutions, dedicated to providing knowledge, service and products for the control and efficient use of steam and other industrial fluids. With over 90 years of experience, Spirax Sarco has both the resources and capabilities to meet customers' total system needs.

Contact

Dawn Cartwright

Marketing Communications Manager

Spirax Sarco, Inc.

Tel. 803-714-2072

Fax 803-714-2224

EMail dcartwri@spirax.com

www.spiraxsarco.com/us
More from Electrical Equipment & Systems