Concrete Repair Kit fixes cracks and gaps in minutes.
Press Release Summary: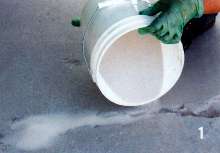 FlashPatch(TM) system allows heavy forklift traffic to resume within 15 minutes after application of product. Low-order product meets USDA requirements and works at substrate temperatures as low as as 20°F; cure time may take up to 45 minutes at temperatures below freezing. Application consists of pouring special silica sand, wetting it with FlashPatch liquid, and immediately striking it level. Product suits spalled surfaces, patching, non-moving cracks, and more.
---
Original Press Release:

Thermal-Chem's FlashPatch(TM) Rapid-Curing Concrete Repair Kit Eliminates Floor Repair Downtime


FRANKLIN PARK, Ill. - New FlashPatch(TM) concrete repair system completely fixes cracks or gaps in concrete flooring in minutes. The system combines an advance in formula technology and simplified application method to produce repairs that are ready for heavy use with practically no project downtime.

"With FlashPatch, you can begin heavy forklift traffic within 15-minutes of application," says Thermal-Chem Corporation Vice President John von Leesen. "FlashPatch is easy to use: just pour in the special silica sand, wet it with the FlashPatch liquid and immediately strike it level. There's no messy mixing or wasted product left over. It's really a major breakthrough for floor repair."

FlashPatch is a low-order product that meets USDA requirements and works at substrate temperatures as low as 20°F. (Although cure time may take up to 45 minutes at temperatures below freezing.)

Kits are available in 2 sizes and the smallest will fill about 144 linear feet of cracked floor surface. FlashPatch is the perfect solution for in-house maintenance including: spalled surfaces, patching, non-moving cracks, level uneven grade transitions and broken joint edges.

With FlashPatch's rapid-curing capability, a floor coating can be applied over the repaired area 15 minutes after placement. This reduces the labor downtime for contractors whose crews could easily wait hours for other repair methods to fully cure before applying a new coating.

Thermal-Chem Corporation is a suburban-Chicago-based developer and manufacturer of polymer-based protective coatings and concrete repair systems. Since 1976, Thermal Chem products have been applied to millions of square feet of concrete surfaces throughout North America.

For more information on FlashPatch, contact Thermal Chem at 1-800-635-3773 (Outside the U.S.: 847-288-9090)


Related