Concrete Patching Product cures in all temperatures.
Press Release Summary: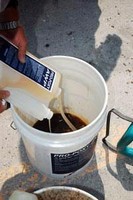 With up to 30% tensile elongation and ability to cure in -20 to +130°F temperatures, Pro-Poxy AWP high-strength epoxy-urethane hybrid is suited for extremely cold conditions, such as freezers, and those that endure extreme heating and thawing, such as parking structures, airport taxiways, and runways. Available in ready-to-use kit, product has no halo effect on surrounding concrete. Repaired areas can be open to traffic in as little as 15 minutes.
---
Original Press Release:

New Unitex Concrete Patching Product Cures Fast, Performs Better in All Temperatures



KANSAS CITY, Mo., Sept. 2 -- How do you quickly patch concrete in a subzero environment -- where you need to drive a forklift over the surface within minutes?

That's exactly the problem faced on a project involving a large commercial food freezer. The solution: a new product from Unitex - Pro-Poxy AWP (http://unitex-chemicals.com/catalog/propoxy_awp.shtml) - a unique concrete patching solution.

Pro-Poxy AWP is a high-strength epoxy-urethane hybrid that quickly cures in all temperatures. It was developed by the Unitex research and development team. Kansas City-based Unitex (http://www.unitex-chemicals.com/) develops and delivers solutions for concrete construction and repair.

Pro-Poxy AWP was easily applied in the freezer - and cured in just 30 minutes at minus 10 degrees F.

Pro-Poxy AWP offers contractors, maintenance supervisors and others a new patching solution for extremely cold conditions, such as freezer floors, and those that endure extreme heating and thawing, such as parking structures, airport taxiways and runways. It can also be used when repairs need to be done very quickly, including high traffic areas in warehouses.

Compared with similar products, the low-modulus Unitex epoxy-urethane hybrid is stronger and more flexible, having up to 30 percent tensile elongation.

Key facts:

o Pro-Poxy AWP is among the few solutions to offer quick-curing, high-strength repairs in all temperatures.

o Pro-Poxy AWP is stronger and much more flexible than other similar products, offering better thermal compatibility than high modulus patching materials.

o Pro-Poxy AWP has no "halo" effect on surrounding concrete.

o Pro-Poxy AWP cures in -20 F to 130 F. Repaired areas can be open to traffic in as little as 15 minutes.

o Pro-Poxy AWP comes in a ready-to-use kit, complete with specially engineered aggregate.

Go to unitex-chemicals.com/catalog/propoxy_awp.shtml for technical information.

Using Pro-Poxy AWP

Pro-Poxy AWP comes in two ready-to-use kit sizes, a .45 cubic-foot kit or a 100 cubic-inch kit. The kits contain the liquid epoxy urethane and the aggregate. Maintenance crews can tote the kit to the job site and easily mix the product. The liquid components are mixed in a 1:1 ratio. The aggregate is added to the liquid solution in a 3:1 ratio. The repaired area cures quickly, offering a high-strength, flexible, long-lasting patch that has no "halo" effect on the surrounding concrete.

More about Unitex

Unitex Chemicals develops and manufactures solutions for concrete construction and repair. The 40-year-old family-owned company serves contractors, departments of transportation and others worldwide. Unitex products are also sold through distributors across the U.S. and Canada.

Unitex products include epoxy polymer overlays (http://unitex-chemicals.com/catalog/propoxy_dot.shtml), epoxy machine grouts (http://unitex-chemicals.com/category/machinegrout.html), low modulus epoxy repair mortars (http://unitex-chemicals.com/catalog/propoxy_2500.shtml), injection epoxies (http://unitex-chemicals.com/category/crack.html), NSF certified and GreenSpec listed products (http://unitex-chemicals.com/catalog/farmfresh.shtml). Every Unitex product is guaranteed.

Unitex is unique in the industry in providing on-site support and training. The company's research and development team is continually working on new ways to support the industry.

Source: Unitex

Web site: http://www.unitex-chemicals.com/

More from Controls & Controllers