Concrete Floor Grinder and Polisher handles aggressive applications.
Press Release Summary: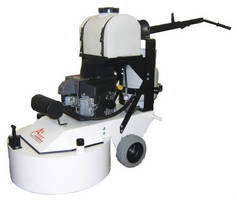 UltraGrind propane-powered planetary head concrete grinding and polishing machine weighs 500 lb and provides 40 lb of head pressure per diamond abrasive. It includes 2 in. exhaust ports for concrete dust vacuums as well as 8 gal water tank that allows user to rewet floor while polishing. Unit is powered by 20 hp Kawasaki 603 cc engine with heavy-duty canister air filter.
---
Original Press Release:

Aztec Introduces the UltraGrind Concrete Grinding Machine



Aztec Products, Inc. introduced its prototype of the all new UltraGrind propane powered, planetary head, gear driven, concrete grinding and polishing machine at the World of Concrete Show in Las Vegas in February, 2010. Today Aztec announces the UltraGrind is now in production and available with diamonds and chemicals for polishing concrete floors.

The UltraGrind is the newest addition to Aztec's extensive line of floor stripping, buffing and polishing machines. The Aztec UltraGrind has been designed for the more aggressive concrete floor grinding and polishing applications, where the goal is to both remove material and highly polish concrete floors. The UltraGrind machine is complementary to the DiamondShine, which is specifically designed for ultra high speed, large area concrete polishing only applications.

Weighing more than 500 pounds, the UltraGrind provides the ideal 40 pounds of head pressure per diamond abrasive for maximum results. The UltraGrind has industry-standard 2-inch exhaust ports for concrete dust vacuums. The UltraGrind also has an 8 gallon water tank, potentially adding up to 80 additional pounds of head pressure, and allowing the user to re-wet the floor while polishing. Like all of Aztec's machines, it is made entirely in the USA.

The Aztec UltraGrind is powered by the new 20hp Kawasaki 603cc engine, featuring a heavy duty canister air filter.

Aztec's VP of Sales, Steven Spengler said, "Our customers have requested for some time now that we manufacture a heavy duty concrete grinding machine. Aztec is known industry-wide for quality, value and serious time and labor savings. The propane powered UltraGrind is powerful, and will prove to be a valuable addition to the Aztec line-up for our contractor friends in the concrete floor industry".

Whit Beverly, President of Aztec Products said, "We are really excited about having a gear driven concrete grinding machine to complement our DiamondShine polishing machine. The gear drive of the UltraGrind will allow it to be used in the most aggressive floor grinding applications".

Aztec Products, Inc. is a family-owned business based in Montgomeryville, PA. For over 30 years, Aztec has developed a series of innovative floor cleaning machines that are engineered for quality work at high speeds, and has become known as the problem-solver for the floor cleaning industry. Aztec is proud to manufacture all of its products in the USA.

To see the complete Aztec product line, visit: www.aztecproducts.com

More from Packaging Products & Equipment