Computers are suited for small to medium businesses.
Press Release Summary: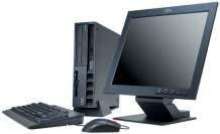 ThinkCentre(TM) A50p systems offer Intel(TM) Extreme Graphics 2 performance, 8 USB 2.0 ports, and Intel Pentium(TM) 4 processors. They utilize Rapid Restore(TM) Ultra to back up programs and data in protected partition on hard drive, while Update Connector(TM) keeps system current by downloading updates to system files. Features include Intel 865G chipset with 333 MHz DDR memory, up to 4.0 GB DDR system memory support, and integrated 10/100 Ethernet.
---
Original Press Release:

ThinkCentre A50p Systems for the IBM Think Express Program


At a glance

The ThinkCentre A50p Pentium 4 systems for small and medium business offer:

· Exceptional performance and room for growth:

- Fast Intel processors

- Outstanding 2D/3D graphics performance for demanding graphics applications

· Innovative tool-less mechanical design allows for easy upgradeability and service support

· ThinkVantage technology which can:

- Help make computing simpler and more secure (selected models)

- Help lower your total cost

- Help increase PC availability and control

Overview

The ThinkCentre(TM) A50p systems for small and medium business bring new Intel(TM) Extreme Graphics 2 performance, fast overall system performance and fast connection to peripherals with eight USB 2.0 ports, and easy tools to backup and protect your data - all at a price you can afford.

These ThinkCentre models are part of the U.S. Think Express program. The models are not available for special bid.

High performance models

· Intel Pentium(TM) 4 processors

· High performance integrated Intel Extreme Graphics 21 and choice of optical drives (select models)

· Integrated Intel 10/100 Ethernet

Easier to expand

· Eight USB 2.0 ports (two on the front, six on the rear) make it easy to add options like scanners, external data backup, and other devices

Easy to use tools for support and enhanced data integrity

· Rapid Restore(TM) Ultra allows you to back up your programs and data in a protected partition on the hard drive to help restore your system easily, even if Windows(TM) fails

· Access IBM allows you to set up and learn about your computer and key software tools that will enhance your computing experience. Access IBM software provides easy access to key ThinkVantage(TM) technologies and IBM service and support

· Update Connector(TM) keeps your system current and lets you download select updates to important system files from the IBM Web site2

A50p series family performance features

· Intel 865G chipset with 333 MHz double data rate (DDR) memory (PC 2700)

· Intel Pentium 4 processors

· Up to 4.0 GB of DDR system memory support

· Integrated Intel Extreme Graphics 2

Leadership design features

· Tool-less cover removal

· Tool-less PCI card slots

· Internal bays flip up and components slide on rails

· Eight USB ports for easy upgrades, two of which are in the front for easy access

Easy to use and manage

· Excellent system manageability tools

· Tool-less mechanical design enables faster upgrades and repairs

Optimized for connectivity

· Integrated Intel 10/100 Ethernet standard on all models

IBM service and support

· Full range of optional services available for all customer sizes

For up-to-date marketing and technical information, visit the IBM Web site at:

http://www.pc.ibm.com

1 For models without a separate video card, memory supports both system and video. Accessible system memory may be up to 64 MB less than the amount stated, depending on video mode.

2 Requires Internet access account, not included. Available during machines limited warranty period.

Planned availability

February 2004

More from Electronic Components & Devices