Computer Workstation includes PCI Express graphics.
Press Release Summary: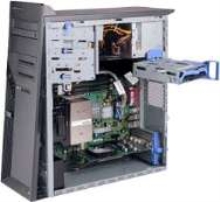 IntelliStation M Pro Express is equipped with 3.2 GHz Intel Pentium 4 processor with 800 MHz FSB, 2 Mb L2 cache, and Extended Memory 64 Technology. It offers 4 Gb PC2-3200 ECC DDR2 SDRAM DIMM memory, integrated Serial ATA, integrated Gigabit Ethernet, and NVIDIA Quadro FX 1400 graphics adapter. Minitower features 4 slots, 5 bays, 2 fans, and 400 W power supply. Workstation is suited or engineering, business, media creation, and scientific applications.
---
Original Press Release:

IBM IntelliStation M Pro Express Model Features Solid Performance and High-powered Graphics with Intel Extended Memory 64 Technology and PCI Express Graphics


At a glance
A new Express model of the IntelliStation M Pro system offers advanced technology, application compatibility, and system reliability.

Intel Pentium 4 at 3.2 GHz with 800 MHz front-side bus (FSB), 2 MB L2 cache, and Extended Memory 64 Technology (EM64T)
NVIDIA Quadro FX 1400 for performance 2D graphics
Integrated SATA and Ultra320 on select models
Integrated Gigabit Ethernet
SATA 80 GB2 7,200 rpm
CD-ROM optical drive
Minitower with four slots, five bays, two fans
400-watt power supply
System hardware warranty - Three years, parts and labor

Overview
A new express model of the IntelliStation® M Pro workstation delivers high-powered processing speed with the Intel(TM) Pentium(TM) 4 processor. This dependable workstation can help reduce project turnaround times in engineering, business, media creation, and scientific applications.

Express Portfolio
Select configurations of IBM IntelliStation systems are part of the IBM Express Portfolio program - designed, developed, and priced to meet the specific needs of mid-sized businesses. These systems are easy to acquire, install, and manage. They leverage IBM technology to provide tangible solutions to help you solve business problems in an on demand world.

Features of the Express program:

Everyday low price

Additional supply planned to help establish business continuity and enable on demand for small and medium business environments

Solutions configured to match the business needs of small and medium business customers

Solid performance
3.2 GHz Intel Pentium 4 microprocessor with 800 MHz FSB, 2 MB L2 cache
Up to 4 GB3 with PC2-3200 ECC DDR2 SDRAM DIMM memory
Integrated Serial ATA (SATA)
80 GB 7,200 rpm SATA
NVIDIA Quadro FX 1400 graphics adapter
Windows XP Professional

Outstanding support
The highly reliable IntelliStation M Pro systems feature a three-year limited warranty on parts and labor.5

Planned availability date
April 29, 2005

More from Electronic Components & Devices