Computer Platform includes monitors and data acquisition.
Press Release Summary: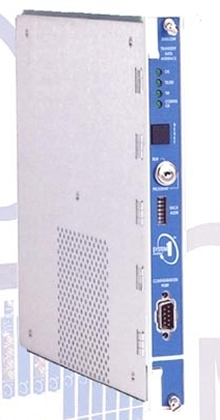 Series 3500 platform provides all data-capture functions needed for interfacing machinery protection system to condition monitoring software. Functionality is provided by 3500/22M TDI Rack Interface Module, which allows users to connect system to System 1(TM) software with one Ethernet cable. M² Monitor modules capture high speed waveform information and supply this to System 1 software via the 3500/22M TDI module. System also includes integrated data acquisition.
---
Original Press Release:

Bently Nevada Announces Integrated Data Acquisition, M² Monitors, for 3500 Series Machinery Protection System


MINDEN, 20 AUGUST 2002 - Bently Nevada, the leading global supplier of machinery protection and condition monitoring solutions, today announced a significant breakthrough with its industry-leading platform for protecting machinery, the 3500 Series. All data-capture functions needed for interfacing a machinery protection system to condition monitoring software can now be provided completely internal to the 3500 rack - dramatically improving performance, eliminating the need for bulky external hardware, and saving costs. This functionality is provided by the new 3500/22M TDI Rack Interface Module and allows users to connect their 3500 system to Bently Nevada's patented System 1(TM) software with a single Ethernet cable. Advanced monitor modules, identified by a special M² logo on the front panel, are now standard within the 3500 system and have the ability to capture high speed waveform information and supply this to System 1 software via the 3500/22M TDI module. The M² logo on these modules denotes that the condition monitoring "Machinery Management" functions are now completely integrated into the rack, augmenting the rack's already powerful machinery protection functions.

Jeff Rudd, Bently Nevada's Product Line Manager for the 3500 Series, elaborates on the benefits to users: "It is very common today for the critical machinery instrumented with continuous protection monitoring to also be fitted with online condition monitoring software. Historically, that has meant the need for separate external data acquisition hardware of roughly the same space requirements as the underlying 3500 rack." Rudd points out that the additional cabinet space required for separate data acquisition hardware adds installation costs and makes retrofits particularly difficult when adequate space does not exist in the cabinet. Says Rudd, "This new 'zero footprint' solution eliminates those problems and puts our most recent technology for data acquisition right in the 3500 rack - connecting to System 1 software is as simple as running an Ethernet cable between the rack and the host computer."

Rudd goes on to explain that far from stripping down capabilities so this functionality can fit entirely within the rack, the 3500 TDI module actually improves the data capture capabilities compared to the larger external hardware required in the past. "It's the most powerful online data acquisition technology we've ever offered - and we've done it without requiring even a single cubic inch of additional space in the rack." The product eliminates the need for Bently Nevada's previous generation data acquisition hardware such as TDIX or TDXnet(TM) communications processors.

Rudd also explains the product's scalable architecture: "Our configuration software allows you to assign the type of data acquisition required for each channel and mix-and-match as required. If you need full transient data capture," says Rudd, "you can have it. If you only require steady-state data capture, or if you don't require any dynamic data at all - only static data values every second or so - you can enable the monitor channel accordingly, and the price is scaled accordingly. This allows users to tailor the system on a per-channel basis, both in terms of functionality and in terms of cost."

Roger Harker, the company's Vice President of Strategic Development, is particularly passionate about the ease of retrofits that this enables: "Users who now want to connect their 3500 system to our System 1 software generally need only to replace their existing Rack Interface Module with the new 3500/22M, and then 'turn on' the functionality already embedded in the 3500 system using a special software configuration disk. Users are no longer penalized if they don't buy the condition monitoring system simultaneously with the machinery protection system. It can be added painlessly at a later date, without the need for additional space, external hardware, special modifications to the rack, or additional wiring. We've taken the pain out of retrofitting such systems."

Alan Tart, lead engineer for the project, is likewise enthusiastic about this extension of the 3500 platform: "For several years, users have been asking us about the little M² logo on the front of their 3500 monitors. Today, we've unveiled what that means: that the monitor modules are not just for machinery protection - the M² 'Machinery Management' capabilities are embedded right in the rack. It's pretty remarkable when you consider that we've cut the space requirements by a factor of two or more by merging the machinery protection and condition monitoring data acquisition functions while significantly improving the communication speed, data resolution, event capture capabilities, ease of installation, and cost of implementation. All of these directly benefit the user."

The 3500 Series system, released to the market in 1995, is the world's most popular choice for continuously monitoring and protecting critical machinery. Nearly 200,000 channels are presently in service.

Bently Nevada (www.bently.com), a GE Power Systems Company, is the world's leading supplier of products and services for assessing and ensuring the mechanical and thermodynamic health of industrial machinery. The company maintains nearly 100 offices in the principal industrial centers of 43 countries around the globe, and has annual sales exceeding $250 million. It serves a broad base of more than 25,000 global customers in the power generation, petrochemical, metals & mining, pulp & paper, food & pharmaceutical, and other industries.

System 1 and TDXnet are trademarks of Bently Nevada, LLC in the United States and other countries.

More from Electrical Equipment & Systems