Computer Module targets embedded projects.
Press Release Summary: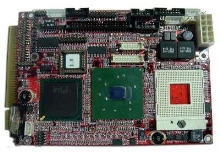 Based on Intel® 852GM and Intel® ICH4 chipset, EmCORE-i761 supports 1.4-2.0 GHz Intel® Pentium® M processors and 600 MHz to 1 GHz Intel® Celeron® M processors. It is available with CRT/LCD dual displays, 10/100 Base-TX Ethernet, Ultra DMA 33 ATA EIDE, 6 USB 2.0 ports, AC97 Audio, serial/parallel ports, and PCI expansion bus. Embedded features include RS-232 console redirection, 1 PCI interface to support 3 PCI master, and 18~48-bit dual channel displays.
---
Original Press Release:

ARBOR Announces Intel® Pentium® M Based Embedded Module for Long Life Embedded Projects


Taipei, July 25, 2005 ARBOR Technology Corp., a leading "Embedded & Network Computing" provider, announces the release of its newest EmCORE-i761 embedded board based on Intel® Pentium® M. EmCORE-i761 offers a very short time-to-market solution for OEM customers. The EmCORE-i761 embedded board concept of off-the-shelve core modules combined with custom made daughter board, reduces product development time for a full custom solution. Target markets for the EmCORE-i761 are Network Communication, Medical, Instrumentation, Transportation, Electronic Automation and POS.

EmCORE-i761 is based on the Intel® 852GM and Intel® ICH4 chipset and supports both Intel® Pentium® M processors at 1.4GHz to 2.0 GHz and Intel® Celeron® M processors at 600MHz to 1GHz. Both chipset and processor are parts of Embedded Intel® Architecture (IA) that warrants long production life for applications that need extended availability. The module supports CRT/LCD dual displays, 10/100 Base-TX Ethernet, Ultra DMA 33 ATA EIDE, six Universal Serial Buses (USB2.0), AC97 Audio, Serial/Parallel ports, PS2 Keyboard/Mouse and PCI Expansion bus.

The EmCORE-i761 standard supports embedded features such as RS-232 console redirection, one PCI interface to support 3 PCI master and 18 ~ 48-bit dual channel displays. It can be available with custom made daughter boards that have extra RS232 ports and 16-bit programmable DIO application.

ARBOR's EmCORE-i761 series currently includes low power Intel® Celeron® M and Intel® Pentium® M processors. All modules are supported by BSPs for Microsoft Windows XP Embedded, Windows CE.NET and Linux.

Product Features:
o Intel® Ultra low Voltage Celeron® M 600MHz up to 1GHZ CPU onboard FSB400MHz (7W)
o Intel® Low Voltage Pentium® M Dothan 1.4GHz CPU onboard FSB400MHz (10W)
o Intel® Pentium® M Dothan Socket 478 CPU up to 2.0GHz FSB400MHz
o One PCI Interface to Support 3 PCI Master
o Support 6 RS-232 Serial Ports with Daughter Board (Optional)
o Support 16-bit Programmable DIO with Daughter Board (Optional)
o Support Dual Independent Displays
o Support 18~48-bit Dual Channel LVDS, DVI & CRT
o Support DDR 200/266 up to 1GB DDR SDRAM
o Support 6 High Speed USB 2.0 Ports
o Support Compact Flash Type I/II Socket up to 4GB

More from Communication Systems & Equipment