Computer Filter helps minimize eye strain.
Press Release Summary: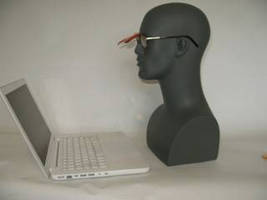 Offering protection against Computer Vision Syndrome, Task-Vision Large e-z Clip-On Computer Filter attaches to any prescription eyeglasses to help minimize eye strain and relax eyes. Large lens optimizes true color perception while maximizing contrast and allowing for sharp details. Filter is also available in magnification powers of +1.00, +1.50, +2.00, +2.50, +3.00, +3.50, +4.00, and +5.00.
---
Original Press Release:

Tech Optics International Understands the Demands of the Working on a Computer for Long Periods of Time



Tech Optics International understands the demands of the working on a computer for long periods of time. (CVS) Computer Vision Syndrome. Task-Vision NEW Large e-z clip on computer filter can be attached to any prescription eyeglasses. The filter reduces eyestrain and relaxes your eyes.  This new larger lens will enhance true color perception, increase contract and allow for sharper details.  The Task-Vision computer clip on  "Relief Tint" is a simple and extremely lightweight solution to the demands of computer work.   Also available in magnification powers +1.00, +1.50, +2.00, +2.50, +3.00, +3.50, +4.00  & +5.00. Tech Optics is a optical manufacturer with over 30 year's experience, we specialize in magnification and accessories for the low vision industry, healthcare professional and government / state low vision agencies. We offer high quality products for the visual impaired.  For more information and special professional pricing 800 678-4277 or 856 795 8585 www.techopticsinternational.com



Lisa Wassmer

Tech Optics International

Director of Sales

600 Deer Road

Cherry Hill, NJ 08034

800 OPTICS-7

856 795 8585

Fax 856 427 7940

Catalog Download: 

http://www.techopticsinternational.com

lisa@techopticsinternational.com



Task-Vision is an exclusive trademark of Tech-Optics International



More from Material Handling & Storage