Compressor Controller sequences multiple units.
Press Release Summary: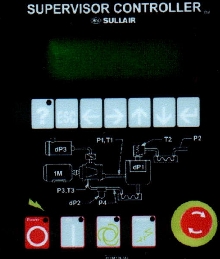 Supervisor Controller monitors and controls compressor, and communicates via RS485 and RS232 ports. Dual control provides lead-lag and sequencing with multiple compressors. Unit has 4-line, full-text display for constant readout of pressure and temperature, on-demand readout of operating and maintenance conditions, monitoring of key functions and safety shutdowns, and power failure auto re-start.
---
Original Press Release:
Computer-Based Compressor Controller Is Distinctively User-Friendly
MICHIGAN CITY, IN-Keeping pace with industry's focus on high-tech advancements, Sullair Corporation has redesigned the Sullair Supervisor Controller with state-of-the-art technology, making it even more compatible, accurate and user-friendly. One of the design highlights is a new four-line, full-text display, which provides the ultimate in easy readability. This computer-based microprocessor controller accurately monitors and controls the compressor. It also allows sequencing of multiple compressors and communication capability. Service and preventive maintenance information is built into the controller for enhanced accuracy and convenience. Outstanding features include constant readout of pressure and temperature, on-demand readout of all operating and maintenance conditions, monitoring of key functions and safety shutdowns, and power failure auto re-start. Also noteworthy is the dual control, which provides automatic start-stop operation; lead-lag and sequencing with multiple compressors; service and preventive maintenance schedule; "Run," "Loaded" and "Consumable Parts" hours; fault history with sensor readings; and "Help" key for built-in troubleshooting. The Sullair Supervisor offers two-way communications for increased efficiency. RS 485 and RS 232 communications ports allow for several communication and remote monitoring/control options. Sullair Corporation manufactures energy efficient compressed air and vacuum systems as well as the Sullair System which includes oil-free and lubricated air compressors, dryers and compressed air contaminant-removal equipment. Sullair Corporation, 3700 E. Michigan Blvd., Michigan City, IN 46360. Telephone: 1-800-367-6737. www.sullair.com