Miscellaneous Management Systems
Compressed Air Recycling System helps extend tool life.
Press Release Summary: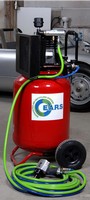 Exhausted Air Recycling System (E.A.R.S.) provides closed loop between air compressor and air tool by capturing exhausted air from air tool and returning it to compressor. In addition to reducing energy consumption and noise levels, tool system keeps moisture, dust, oil, and other pollutants out of compressor and air tools. This both extends life of power tools and contributes to cleaner work environment.
---
Original Press Release:

New Product Saves Energy, Improves Productivity



The new and innovative air tool technology that improves productivity, saves energy, and improves workplace health and safety is called the Exhausted Air Recycling System or E.A.R.S. The tool system provides a closed loop between the air compressor and the air tool by capturing the exhausted air from the air tool and returning it to the compressor. This closed-loop system generates more power with less energy, making this system the first real innovation in pneumatic tool technology in many years. Now available in North America, the tool system was first released in Australia with remarkable results. The tools are fully patented across the globe.

Whether using an E.A.R.S. air tool, an E.A.R.S. compressor, or a retrofit kit for existing tools and equipment, the benefit is immediate with the new system. Tests have shown that energy consumption is reduced by nearly 50% and noise levels are reduced from 40% to 80% over conventional air tools. As an added bonus, the air compressor and the power tools will last longer as the closed loop system keeps moisture, dust, oil and other pollutants out of the compressor and air tools. And, the work environment is noticeably improved because moisture and dust particles are not blown around the shop as by normally exhausted air tools.

Because of the E.A.R.S. technology and its benefits, this system of products will give all the savings and benefits without giving up performance. "With the rising cost of energy, the modest investment in new tools and retrofit kits will show an extremely attractive ROI," said Cliff Kniesly, President of E.A.R.S. North America, the authorized master distributor of E.A.R.S. products in the United States and Canada.
To find out more about these exciting new products, please contact E.A.R.S. North America, a wholly-owned subsidiary of Strategic Tools & Equipment Company located in Lindenhurst, Illinois. The company serves channels and customers in professional tool distribution, automotive service, and manufacturing facilities throughout the United States and Canada.

Contact: Steven Baer at E.A.R.S. North America, Post Office Box 6177, Lindenhurst, Illinois, 60046. Phone: (847) 356-3220; Email: Steven.Baer@StrategicTQ.com

More from Explosives, Armaments, and Weaponry