Compressed Air Dryer reduces power consumption by 2/3.
Press Release Summary: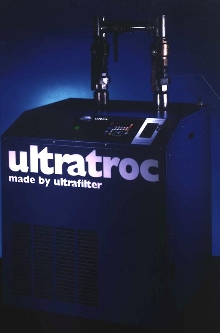 Fuzzy control logic in ultrapulse refrigerated air dryer reduces power consumption compared to company's older style hot gas bypass control systems. Logic measures and anticipates changes in demand and switches cooling circuit on and off to maintain required dew point, thus conserving energy without creating dew point spikes. Controller displays all critical operating parameters, handles flow rates of 30 scfm, and controls condensate drain.
---
Original Press Release:

Minimize Energy Costs Year-Round with the Ultrapulse® Refrigerated Compressed Air Dryer by Ultrafilter International A. G.


The new ultrapulse refrigerated air dryer is proven to reduce power consumption by two-thirds compared to older style hot gas bypass control systems, but without sacrificing performance.

Fridge dryers are most efficient when operating at their full design capacity. While the demand on a fridge dryer typically fluctuates throughout the day, the dryer must be sized to handle the worst case scenario. This means that most fridge dryers are oversized for their average load and, as a result, run inefficiently. Early attempts to improve efficiency by using cycling dryers with heat sinks were ineffective and, despite some power savings, large dew point variations detrimental to the air system were seen. The goal was to develop a fridge dryer that adapts automatically to the actual demand, conserving energy in the process, without creating dew point spikes.

A state-of-the-art microprocessor utilizes "fuzzy logic" to measure and anticipate changes in demand and switches the cooling circuit on and off to maintain the required dew point. In a sense, the microprocessor keeps a "finger" on the "pulse" of the ultrapulse dryer. The controller is equipped with an easy-to-read, multi-function display of all critical operating parameters. It controls a fully automatic no-waste condensate drain, further conserving energy.

ultrapulse also incorporates a unique feature which conserves energy based on ambient conditions. Three different dew point settings allow the unit to be set to a winter mode (35°F pdp), a summer mode (45°F pdp), or a fully automatic "flex" mode which relates ambient temperatures to the compressed air load on the dryer.

The patented ultrapulse design is available for flow rates of 30 scfm and higher. Its self-regulating operation allows it to be used worldwide under nearly all ambient conditions.

For additional information contact:
Chris Brooks
Customer Service Manager
ultrafilter inc.
1-800-543-3634
www.ultrafilter-us.com

3560 Engineering Drive
Norcross, GA 30092

More from HVAC