Compressed Air Dryer ranges from 150-1,000 scfm.
Press Release Summary: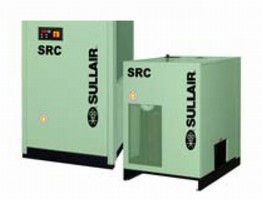 SRC Refrigerated Cycling Air Dryer utilizes Montreal Protocol-compliant R407C environmentally green refrigerant and features control system that monitors thermal mass and dewpoint temperature. System includes single panel for access to all components and condenser section positioned separate from main body of dryer, allowing proper air flow and condenser cooling during maintenance. Optional RS-485 connection enables remote operation of dryer.
---
Original Press Release:

New SRC Refrigerated Cycling Air Dryer Reduces Power Consumption, Saves Energy Costs



MICHIGAN CITY, IN-Sullair Corporation is pleased to introduce its new SRC Refrigerated Cycling
Compressed Air Dryer. Designed to reduce the cost of drying compressed air, the SRC Dryer is furnished in
ten models, ranging from 150 to 1000 scfm. These dryers offer a wide range of operating and performance
features to help users reduce energy consumption for greater cost savings by matching power consumption
to actual operating conditions.

Standard on SRC-250 to SRC-1000 models, Sullair utilizes the reliable and energy-saving scroll
compressor. Other standard features on dryer models SRC-400 to SRC-1000 include a unique zero-loss
drain integrated into the heat exchanger to collect condensate. As condensate builds, it activates a drain
level sensor to evacuate collected material. The drain cycle continually adjusts itself to working conditions.

While the Sullair SRC-150 through SRC-200 cycling air dryers are equipped with simple analog indicators
and controls, models SRC-250 and larger feature advanced, user-friendly microprocessor controls. These
controls include such features as digital multi-functional display and dewpoint temperature read-out, multiple
alarm safety and extensive programmability. For those requiring remote monitoring capabilities, Sullair offers
an optional RS-485 connection in the SRC dryer that provides remote start, stop, alarm reset, and dewpoint,
temperature, alarm and hour counter monitor. The SRC's advanced control system also monitors both the
thermal mass and dewpoint temperature for more accurate control and anticipated load variations.

All Sullair SRC refrigerated cycling feature Montreal Protocol compliant R407C, the most environmentally
"green" refrigerant available. R407C is also more efficient than other refrigerants, offering lower power
consumption, reduced refrigerant needs and smaller refrigerant compressor requirements.

Designed for convenient service, all Sullair SRC dryers have a single panel to access all components for
standard maintenance. The control panel, located in a separate enclosure, is easily accessed from the front
of the dryer. Added versatility is also provided by positioning of the condenser section separate from the
main body of the dryer to allow proper air flow and condenser cooling during maintenance.

Manufactured to the highest standards of quality in an ISO 9001 environment, Sullair SRC refrigerated
cycling dryers are backed by an unparalleled, non-pro-rated 5-year warranty (parts and labor) on the major
components. This all-inclusive "Peace of Mind" warranty is proof of Sullair's continuing commitment to
quality.

Sullair, one of the world's leading compressor manufacturers, has been an industry leader and innovator
since 1965. With subsidiaries in France, China and Australia, Sullair is also a globally recognized
manufacturer of compressed air contaminant removal equipment, vacuum systems, portable compressors,
and contractors' air tools.

CONTACT
Judi Seal
Marketing Manager, Industrial Products
Sullair Corporation
Ph: 219-861-5089
Fax: 219-874-1267
e-mail: judi.seal@sullair.com

TECHNICAL CONTACT
Britt Shipley
Manager, Contaminant Removal Systems
Sullair Corporation
Ph: 219-861-5089
Fax: 219-874-1267
e-mail: britt.shipley@sullair.com


More from Mechanical Power Transmission