Composites target aerospace industry.
Press Release Summary: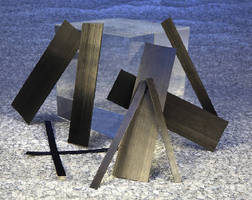 Comprising PAEK and carbon fiber based unidirectional tape and laminate panels, VICTREX® AE250 Composites enable production of continuously reinforced components that can perform under load, including brackets, clips, clamps, and housings used throughout aircraft in primary and secondary structures. PAEK composites are 100% recyclable and offer greater chemical resistance, fatigue performance, and FST properties than thermosets, while matching strength and stiffness.
---
Original Press Release:

Victrex Launches Composites Designed for Aerospace: Victrex® AE250 Product Family Delivers New Level of Efficiency



PAEK and carbon fiber based unidirectional (UD) tape and laminate panels from Victrex enable system cost reductions, faster manufacturing, and weight savings



WEST CONSHOHOCKEN, PA  USA - The leading global PAEK*-based solutions provider, Victrex, is launching composites for the aerospace industry in the form of unidirectional (UD) tape and laminate panels. Introduced under the brand VICTREX® AE250 composites, the new product group enables the production of continuously-reinforced components that can perform under load. Such components include brackets, clips, clamps, and housings used throughout the aircraft in primary and secondary structures. The development and launch builds on the hybrid molding technology released in 2014 and also serves as proof that Victrex is moving forward in the supply chain to provide enhanced solutions.



One compelling advantage of implementing a PAEK-based composite solution is faster manufacturing as a result of smarter designs, contributing to cost savings, and improved installation times. VICTREX AE250 composites have also shown a weight savings of up to 60% under certain circumstances when compared to metals such as aluminum, stainless steel, and titanium. That weight reduction translates directly into significant gains in fuel-efficiency and reduced CO2 emissions. The composites have also shown an up to 5x higher specific strength compared to those of metals.



"Victrex sees this as another excellent opportunity to support our customers by being a total solutions provider," noted Tim Herr, Aerospace Director at Victrex. "Our innovative PAEK composites, paired with the revolutionary hybrid molding technology, bridge the gap between composites and injection molding. It enables the manufacture of complex composite parts which have not been possible until now."



With VICTREX AE250 composites being used as inserts in existing injection molding equipment, the hybrid molding process enables the overmolding of a continuously-reinforced thermoplastic composite with VICTREX PEEK injection molding polymers. The hybrid molding technology offers major advantages, including improved cycle times, lower energy requirements, and the elimination of scrap and secondary operations. These factors help to reduce total system cost, a high priority in the industry's effort to move planes off the assembly line faster and more cost-effectively. Analysts believe that more than 35,000 new aircraft will be needed over the next 20 years in order to replace ageing fleets and to meet civilian flight demands.



"One key to achieving this is the replacement of metals and thermosets with next-generation thermoplastic solutions. When Victrex collaborates with our customers from concept to final part, they are able to achieve an unmatched combination of cost reductions, weight savings, design freedom, strength, and production speed for next-generation thermoplastic components.  All of these are becoming increasingly valuable to both the air-framers and tier suppliers alike," explains Tim Herr.



Compared to thermoset solutions, PAEK composites can be processed faster, using out-of-autoclave methods, and are 100% recyclable. They have better damage tolerance than thermosets and offer greater chemical resistance, fatigue performance, and FST (flame/smoke/toxicity) properties, while matching the strength and stiffness of thermosets. In comparison to metals, corrosion resistance, processing speed, and thermal insulation are improved, while impact resistance and damage tolerance will be similar.



The key features of the VICTREX AE250 composites also include outstanding high-temperature performance and thermal stability, a wide-ranging chemical resistance to aerospace fluids and gases, and excellent resistance to hydrolysis and corrosion. Victrex has solely focused on the development of PAEK-based solutions for more than three decades and consequently been able to partner in the automotive, aerospace, energy, electronics, and medical industry with leading companies around the world.



For more information on VICTREX AE250 composites, please visit www.victrex.com/ae250.



* PAEK, polyaryletherketone, a family of high-performance thermoplastics, such as VICTREX® PEEK

More from Thermal & Heating Equipment