Composite Tooling Block offers high temperature resistance.
Press Release Summary: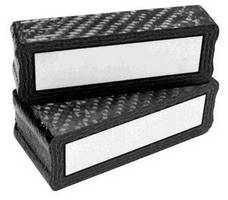 Compatible with LTM® epoxy and HTM® Bismaleimide prepregs, Model CB1100 ceramic tooling block can produce thermally stable composite tooling tolerant of high pressures and elevated temperatures associated with autoclave cure cycles. High-grade product features low coefficient of thermal expansion; does not absorb water, eliminating need for drying or venting of tool; and is incombustible. It is suited for production of high-accuracy, short run, and prototype tooling.
---
Original Press Release:

ACG Announces the Launch of a New Composite Tooling Block



ACG, part of the Composites Division of Umeco plc, announces the launch of CB1100, a high-grade ceramic tooling block material offering a unique combination of high temperature resistance and exceptionally low coefficient of thermal expansion (CTE). Fully compatible with ACG's LTM® epoxy and HTM® Bismaleimide (BMI) prepregs, CB1100 can produce thermally stable composite tooling capable of withstanding the high pressures and elevated temperatures associated with autoclave cure cycles.

ACG's CB1100 ceramic tooling block can be used as a high temperature capable master model. Machining times for CB1100 are short and, because of its very low thermal expansion, CB1100 is also particularly suited to the production of high accuracy, short run and prototype tooling, where it offers great savings in time and cost.

BMI tooling produced with a CB1100 core can be produced direct from the block without the need for a high temperature capable intermediate. CB1100 blocks can be fabricated and machined to form a tool core, totally eliminating the need for a master model, thereby further reducing lead times and costs. The composite tool skin, laminated directly to the core, uses ACG's patent pending interfacing technology. Due to the high thermal stability of the ceramic core, the tool skin can be cured in a single operation without the need for an initial low temperature cure and then followed by a subsequent free-standing, high temperature post-cure. The carbon tool skin is fully supported by the ceramic core so there is no need for a backing structure. Collectively, this leads to further reductions in both time and material costs. The tool face is CNC-machined to create the final surface profile, thus overcoming accuracy issues created by intrinsic laminate shrinkage, resulting in an exceptionally accurate and stable tool.

CB1100 does not absorb water so it does not require drying or subsequent venting of the tool, and it is incombustible.

For further information please contact:

Advanced Composites Group

Clive Bennett - Tooling Technology Manager. E-mail: cbennett@acg.co.uk

Xavier Gambert - Aerospace Sector Manager. E-mail: xgambert@acg.co.uk

Telephone: +44 (0)1773 766200

More from Construction Equipment and Supplies