Composite Resin promotes optimal sidewall characteristics.
Press Release Summary: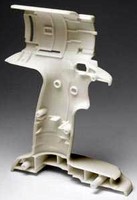 Filled with non-crystalline nanoparticles, NanoTool(TM) stereolithography (SL) resin accelerates processing of parts while minimizing finishing requirements. This ProtoComposite(TM) material has flexural modulus of 10,500 MPa, heat deflection temperature of 260°C, and linear shrinkage under 0.001 in. Able to be used in applications involving metal plating, resin is formulated so that water honing process removes any residue left on surface.
---
Original Press Release:
Somos NanoTool Now Commercially Available: Newest Composite Resin Delivers Excellent Sidewall Quality
Elgin, Illinois - DSM Somos, a leading developer of stereolithography (SL) resins for the rapid prototyping industry, has announced the commercialization of NanoTool(TM), the third generation of Somos ProtoComposite(TM) materials. Heavily filled with non-crystalline nanoparticles, NanoTool allows for faster processing and reduced finishing requirements that speed part production, as compared to current composite SL materials. NanoTool has a flexural modulus of 10,500 MPa, a heat deflection temperature of 260°C (at 0.46 MPa after thermal post-cure) and linear shrinkage of less than 0.001". Excellent Sidewall Quality NanoTool SL parts demonstrate the best sidewall quality of any composite SL material on the market today. Better sidewall quality reduces the amount of finishing time required to sand layer lines, making NanoTool extremely attractive for applications that require highly finished parts-such as wind tunnel testing for Formula 1, rapid tooling for injection molding, and metal plating for prototyping metal cast parts. In addition to demonstrating better sidewall quality, NanoTool parts are easy to clean once built. Unlike other composite resins that require more extensive time and care to remove residue, a simple water honing process removes any residue left on the surface of NanoTool parts. "NanoTool delivers superior sidewall quality, excellent detail resolution and is very easy to finish. Overall handling is very similar to non-filled resins," says Ralf Deuke, Director of German-based service bureau Alphaform AG. Metal Plating NanoTool's smooth surface quality and high initial modulus make it an excellent resin for metal plating-a growing application which saves time and money as an alternative to fully metal prototypes. "The issue of part cleanliness becomes extremely important when plating composite resins, because the RP parts will not metallize completely if residue is present," says Sean Wise, President of RePliForm, Inc. DSM Somos, in conjunction with RePliForm, is currently studying the metal plated strength improvements achievable with NanoTool. To date, flexural modulus values of >55GPa have been reached based on a metal to resin volume ratio of 1:4. The tech-nology, coined "MC2(TM)" promises to greatly enhance the effectiveness of prototyping metal parts. NanoTool is now commercially available through direct sales. Contact your Somos account representative for a user's guide or product datasheet. Or contact one of the following service bureaus currently running NanoTool: Design Prototyping Technologies in New York; Paramount Industries in Pennsylvania; FineLine Prototyping in North Carolina; The Center for Manufacturing at the University of Kentucky; Alphaform AG in Germany; and Materialise in Belgium. About DSM Somos® DSM Somos is currently the world's second largest materials supplier to the rapid prototyping industry, providing stereolithography liquids used for the creation of three-dimensional models and prototypes directly from digital data. Somos' patented ProtoFunctional® materials are used by a variety of industries, including automotive, aerospace, medical and telecommunications. Somos' corporate office is located at: 1122 St. Charles Street, Elgin, IL 60120 (Tel +1-847-697-0400), Americas@dsmsomos.info . For more information on DSM Somos® in Europe: Fax. +39 06 9871694, Europe@dsmsomos.info DSM Somos is an unincorporated division of DSM Desotech-a world leader in the development of UV-curable materials-and a member of the global DSM family. More information about the companies can be found at www.dsmsomos.com and www.dsmdesotech.com . About DSM Somos® Materials What is stereolithography? Stereolithography (SL) permits the rapid creation of 3D pieces utilizing a computer-controlled laser that polymerizes light-sensitive resins. The process is highly precise and constructs the object in a series of "additive layers," providing the advantage of producing highly complex forms that are difficult or impossible to fabricate by machining or traditional molding techniques. Theevolution of advanced SL materials offers the potential of moving stereolithography from prototyping into manufacturing. DSM Somos ProtoComposites(TM) are resins reinforced with various materials, such as ceramics and glasses, to produce functional properties not possible using individual components. DSM Somos ProtoComposite materials are a result of a significant research and development program investigating the potential for ACT-SL(TM) (Advanced Composite Technology for StereoLithography). In 2003, DSM Somos announced ProtoTool(TM) ceramic-filled resins, the first member belonging to the new ACT-SL(TM) technology. DSM Somos ProtoFunctional® resins for stereolithography provide advanced technology to respond to the changing needs of new product development and industrial design. Traditional non-composite ProtoFunctional materials by DSM Somos satisfy a varying range of characteristics: transparency, superior humidity and heat resistance, and outstanding mechanical properties, replicating those of many production grade plastics such as polypropylene, polyethylene, ABS and PBT. Technical data on all Somos® materials may be found at www.dsmsomos.com DSM Somos Contact: Eva Montgomery, Tel. 847-468-7741; eva.montgomery@dsm.com J4 Communications Contact: Mark Bruner, J4 Communications, Tel. 330-764-9444; j4com@apk.net
More from Material Processing