Compliance Service enables vendors to meet DoD mandates.
Press Release Summary: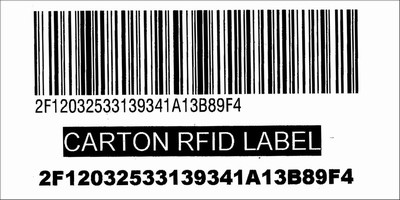 RFID Military Compliance Solution allows vendors of apparel and hardgoods to meet carton and pallet RFID labeling requirements and mandates for issuing advance ship notices. Vendors are supplied with supplemental RFID label encoded with unique identification code that is also printed as bar code and in human readable characters. During shipping process, supplemental RFID label is affixed to cartons and/or pallets in proximity to military shipping label.
---
Original Press Release:

New RFID Military Compliance Solution Enables Vendors to Meet DoD Carton and Pallet RFID Labeling Requirements



new Avery Dennison Retail Information Services solution facilitates quick compliance at low cost for vendors of apparel and hardgoods

WESTLAKE VILLAGE, Calif.--A new service bureau offering called the RFID Military Compliance Solution from Avery Dennison Retail Information Services enables vendors to quickly and cost efficiently meet Department of Defense mandates for affixing RFID labels containing unique identification codes to cartons and pallets, and for issuing advance ship notices.

The mandates affect vendors shipping hardgoods, apparel, footwear and other specified commodities to DoD distribution centers in Susquehanna, Pa. and San Joaquin, Calif. The RFID label requirement is in addition to existing DoD requirements for identifying cartons and pallets with bar-coded Military Shipping Labels (MSL). The MSL labels, which are produced by vendors with in-house label printing systems or sourced from service bureaus such as Avery Dennison Ticket Express(TM), contain destination and other key shipping data. They are applied to easily accessible carton and pallet locations.

By way of the RFID Military Compliance Solution, Avery Dennison RIS supplies vendors with a supplemental RFID label that is encoded with a unique identification code to meet the DoD mandate. The code is also printed as a bar code and in human readable characters. During the shipping process, the supplemental RFID label is affixed to cartons and/or pallets in proximity to the MSL label.

The RFID labels are available to vendors through the RFID Military Compliance Solution at an attractive price. Minimum orders are as low as 500 labels. To order the labels, vendors need only supply their CAGE (Commercial and Government Entity) code, and the quantity and mix of carton and pallet labels they require. Vendors who are registered with Avery Dennison RIS typically receive shipment within 72 hours.

"In a market where RFID label costs can be substantial, Avery Dennison RIS consistently offers highly attractive pricing," notes Mischa Reis, Avery Dennison RIS marketing director - RFID. "Suppliers that ship only small to medium quantities of cases to the DoD will especially benefit from our hardware-free solution. In addition, eligible members of the American Apparel and Footwear Association (AAFA) will receive an even better price as part of the 'RFID Savings Program' we signed with the AAFA."

RFID Ticket Express(TM) Platform and Quality Control

The RFID Military Compliance Solution is based on the field-proven Avery Dennison RFID Ticket Express(TM) service bureau platform, which has an outstanding reputation for delivering high quality RFID labels to locations worldwide. The organization, which cites quality control as a core competency, manages DoD serial number usage by CAGE code to ensure that each label is unique.

Advance Ship Notices

The DoD RFID mandate includes a requirement for issuing an Advance Ship Notice (ASN) to associate the unique identification encoded on the RFID tag with applicable product information at the case and pallet level. At the time of shipment preparation, vendors scan or key MSL data along with the unique number from the supplemental RFID label into the DoD DD250 web based purchase order management system

Avery Dennison supplemental RFID labels measure 4 x 2 inches and utilize Avery Dennison Class 1 inlays. Once the DoD transitions to Gen 2, vendors will receive the same labels, just with a Gen 2 inlay inside - no changes required on the vendors' side.

Vendors wishing to print and program RFID labels in house to satisfy DoD mandates can choose from a variety of Avery Dennison RFID-enabled label printers, along with formatting software and base stock.

Visit: www.ris.averydennison.com

Avery Dennison's Retail Information Services Division brings to industry a powerful, global offering of information management, brand identification and solution-enabling products. Brand identification products include fashion-inspired woven and printed fabric labels, heat transfers and embellishments for tag-free labeling, graphic tags, integrated bar code tags, leather and leather-like patches, sock bands, size stickers . . . and more. Among the company's Information management products are RFID and bar code price tickets, and carton and pallet labels; web-enabled order entry systems; and the InfoChain Express(TM) supply chain management solution, which tracks purchase orders and assists users in meeting the US Customs' 24-hour Manifest Mandate. Solution enabling products include RFID printers and print/apply systems, bar-code printers, heat-transfer bonders, molded plastic fastening and application devices, anti-counterfeiting and diversion tools. The organization operates product ID ticketing centers and service bureaus in 35 countries and maintains mature, highly reliable global distribution processes throughout Asia, North and South America, Europe and Africa. Major markets include retail, apparel, softlines and hardgoods.

ATTENTION EDITOR:
Please forward reader service inquiries to:
Sharon Dalton
sharon.dalton@averydennison.com

Avery Dennison Retail Information Services
3511 West Market St
Ste 270
Greensboro, NC 27403

PH: 336.856.8240
Fax: 336.547.0031

More from Computer Hardware & Peripherals