CompactFlash Memory Card transfers at up to 63 MB/sec.
Press Release Summary: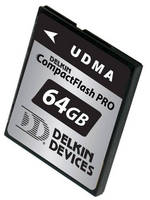 Available in 8, 16, 32, and 64 GB capacities, 420X PRO CompactFlash cards utilize high-grade NAND Flash and include built-in Error Correction Code to automatically detect and correct errors that might occur during data transfer. Suitable for storing high-resolution images and HD video, products are compliant with current CompactFlash specifications and support Ultra DMA mode 6.
---
Original Press Release:

Delkin Delivers Genuine Human Contact with New 420X CompactFlash Line



Poway, CA. - Delkin Devices, Inc. today expanded their lineup of CompactFlash card storage by announcing four new blazing fast 420X PRO cards capable of transfer speeds up to 63MB/s.

The new UDMA enabled flash memory comes with a remarkable San Diego based customer service team as well as a lifetime warranty, and is available in capacities of 8GB, 16GB, 32GB and 64GB. For a working photographer, the reliability and service support behind a memory card can be just as crucial, if not more so, than the camera itself.

"Unless they have blown it up, dissected it, or their dog has chewed on it, we'll take it back," said Eric Findley, Delkin's Customer Service Supervisor. "Since we're based out of Southern California it's easy to call us up and talk to a knowledgeable person within minutes. We stand by our hassle free exchange policy; in addition to the lifetime warranty on flash memory, we have industry leading product support policies on our batteries, readers, adapters, and most all of our digital camera accessories. We build superb products and we want photographers to know they can count on us to support them."

Delkin's PRO memory card line combines blazing fast speeds and increased capacity with unmatched reliability. Every card is manufactured with high grade NAND flash, advanced controller design, and quality control guidelines based on ISO:9001 standards.
Additionally, built-in ECC (Error Correction Code) automatically detects and corrects any errors that might occur during data transfer. Delkin's 420X CF cards are fully compliant with current CompactFlash specifications with support for Ultra DMA (UDMA) mode 6. These high-speed cards are able to instantaneously store high-resolution images and HD video, making recording faster and easier than ever.

Delkin has supported Lifetime warranties on its memory products for over 20 years and maintains a U.S. based support center where genuine human assistance is consistently available Monday through Friday between 8am and 5pm PST. Delkin's 420X PRO line of CompactFlash memory cards and other innovative digital camera accessories may be found in camera stores and distributors worldwide, as well as the company's website at www.delkin.com.

About Delkin Devices, Inc.

Delkin Devices, Inc. national headquarters is in Poway, California with an international branch in Birmingham, England. Since 1986, Delkin Devices has been inventing, designing, and delivering innovative new products aimed at "Making Photography Better." From consumer based products such as memory cards, readers and batteries to professional products such as the SensorScope System®, ImageRouter® and Archival Gold®, Delkin has delivered premium quality, innovative designs, and an ongoing dedication to superior customer support. Delkin Devices and its products have become industry leaders in both industrial and consumer markets worldwide, and continues to be a leading choice among professional photographers and others passionate about digital photography.

Contact: Tom Robeson

Marketing Department

858-391-1234 x111

trobeson@delkin.com

Delkin Devices, Inc.

13350 Kirkham Way

Poway, CA 92064

www.delkin.com

800-637-8087

More from Architectural & Civil Engineering Products