Compact Voice Coil Actuator features clear aperture design.
Press Release Summary: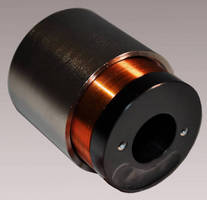 Combining large diameter clear aperture, compact size, and high force, LA15-16-043Z suits applications where space conservation via integration is critical. Aperture can be used for product feed-through, laser beam or other illumination delivery, as well as other application-specific functions. This through-hole actuator measures 1.5 in. dia x 1.6 in. long (at mid-stroke). Total stroke is 0.25 in., and peak force of 15 lb.
---
Original Press Release:

BEI Kimco Magnetics' New Voice Coil Actuator Features Clear Aperture Design for Simplified System Integration



VISTA, Calif. - BEI Kimco Magnetics, a company of Custom Sensors & Technologies (CST), Inc., has introduced the uniquely designed LA15-16-043Z Voice Coil Actuator featuring a large diameter clear aperture, compact size, and force high capabilities. Design engineers will find the new actuator an ideal solution where space savings through system integration is critical.

The actuator's aperture can be used for product feed-through, laser beams or other illumination delivery, as well as for other application-specific functions. This design lends itself to merging the actuator into the customer assembly for a completely integrated system, resulting in reduced weigh, fewer components and a more overall compact product.

In addition to the space-savings through system integration, the through-hole actuator's small size of only 1.5" diameter and 1.6" in length (at mid-stroke), offers space-saving by itself. Other outstanding product characteristics include a total stroke of 0.25" and a peak force of 15 LB - a high strength, given that the center opening means less magnetic material to conduct magnetic flux.

The new offering was developed to meet specific requirements for an optical application. In this instance, the laser beam passes through the middle hole of the actuator and a lens is assembled to the coil, becoming an integral part of the system. When the coil/lens moves, the actuator changes the focus and dithers the laser beam. The concept can be used for a variety of other industrial applications where integration and simplicity can be adapted for volume and cost savings.

"The new actuator demonstrates how product customization is really our forte," says Miguel Hermosillo, BEI Kimco Application Engineer. "To our knowledge, we are the only one on the market offering an actuator with this clear aperture design, and without sacrificing too much force," he adds.

Pricing for the LA15-16-043Z Voice Coil Actuator is from the $200's in production quantities with delivery in 6-8 weeks. For further information contact BEI Kimco Magnetics, 2470 Coral Street, Bldg. D, Vista, CA 92081-8430, USA, Tel: (760) 597-7042; Toll-free: (800) 572-7560; Fax: (760) 597-6320; email: sales@beikimco.com; www.beikimco.com

About BEI Kimco Magnetics:
BEI Kimco Magnetics is an operation of Custom Sensors & Technologies (CST). BEI Kimco Magnetics was founded in 1974 and is a leading manufacturer of high speed, fractional horsepower brushless BLDC motors, voice coil actuators, smart voice coil actuators and BLDC motor controllers for the Transportation, Industrial, and Aerospace & Defense markets. These products are used across a wide range of applications including medical and scientific, factory and office automation, optics, semiconductor/electronics, military, aviation, space systems, and security. Kimco merges leading-edge capabilities and cost-effective manufacturing know-how with highly customized applications expertise. www.beikimco.com

About CST Motors:
CST Motors is comprised of BEI Kimco Magnetics and Crouzet; both are operations of Custom Sensors & Technologies (CST). CST Motors has global sales of $68 M. CST Motors has the ability to support our customers worldwide with International sales teams and adaptation centers.

Crouzet (pronounced cruise-A) started operations in the US in 1978. The Crouzet motor activity is composed of sub-fractional HP AC, DC, BLDC, and Stepper motors with global sales of $55 M, with a worldwide sales team and adaptation centers to support special OEM applications. www.crouzet.com

BEI Kimco Magnetics is a leading manufacturer of high speed, fractional horsepower brushless BLDC motors, voice coil actuators, smart voice coil actuators and BLDC motor controllers for the Transportation, Industrial, and Aerospace & Defense markets. www.beikimco.com

About Custom Sensors & Technologies:
Headquartered in Moorpark, CA - Custom Sensors & Technologies (CST) is comprised of industry-leading brands including Crouzet, Kavlico, Crydom, and former divisions of BEI Technologies - Newall and Systron Donner. CST provides sensors, controls, and actuation products for the Transportation, Industrial and Aerospace & Defense markets. www.cstsensors.com

More from Mechanical Power Transmission