Compact Track Loader Undercarriages minimize vibration.
Press Release Summary: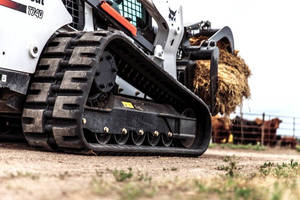 Available for select Bobcat® compact track loaders, solid-mount and optional Roller Suspension™ system undercarriages feature dual-flange front idlers ride on rubber track's roller way. This, along with roller width, reduces vibration. Optimizing ride and operational characteristics, optional Roller Suspension™ system incorporates dual flange front idlers, wider rollers, and mono-leaf springs. Degree of ground and rear clearance aids travel, while overall design facilitates cleaning.
---
Original Press Release:

Bobcat Company Introduces New and Improved Compact Track Loader Undercarriages



(WEST FARGO, N.D.) New solid-mount and optional Roller Suspension™ system undercarriages are available for select Bobcat® compact track loaders, including the T550, T590, T630, T650, T740, T750 and T770.



Superior ride quality

Dual-flange front idlers now ride on the rubber track's roller way. These new front idlers, along with wider rollers, help reduce vibration to improve operator comfort and reduce track wear on the inside of the track. Single-flange idlers are still found on the rear of the machine to help minimize de-tracking.



The optional Roller Suspension™ system has also been changed to optimize ride and operational characteristics. It also incorporates the dual flange front idlers, wider rollers, along with mono-leaf springs, for smoother action. The front idlers have been relocated to enhance machine operation.



Better track carriage cleanout

A horizontally mounted tension cylinder opens up more room between the carriage and track for easier cleanout. The undercarriage is sloped on both sides to shed material, such as sand, dirt, mud and debris, better than the previous design. Additionally, raised cutout between the rollers allow for easier cleaning.



Increased fuel capacity

Depending on the model, operators will see an increase in fuel capacity by up to 45 percent. Actual volume and operational time will vary by machine model.



Enhanced ground clearance

Ground clearance at the center of the undercarriage has been improved by up to 29 percent, helping operators travel through mud, sand and other soft soil conditions more easily.



Improved clearance at the rear of the machine

Clearance at the rear of the machine has been increased. This allows machines to travel over curbs and other obstacles with less chance of catching on them.



Interchangeable tracks

Narrow and wide tracks for compact track loaders are interchangeable at a Bobcat dealership.



ABOUT BOBCAT COMPANY

Bobcat Company, headquartered in West Fargo, North Dakota, is a worldwide leader in the manufacturing and distribution of compact equipment. Bobcat compact equipment includes skid-steer, all-wheel steer and compact track loaders; compact excavators; mini-track loaders; VersaHANDLER® telescopic tool carriers; utility vehicles and Toolcat™ utility work machines. Bobcat is a global brand with more than 550 dealer locations in North America and the leader in compact equipment — the industry's original innovator, beginning more than 50 years ago with the first compact machine and predecessor to the skid-steer loader. Bobcat Company is a subsidiary of Doosan Infracore Bobcat Holdings Co., Ltd., a wholly owned subsidiary of Doosan Infracore Co., Ltd. For more information on Bobcat products, visit Bobcat.com.



Certain specification(s) are based on engineering calculations and are not actual measurements. Specification(s) are provided for comparison purposes only and are subject to change without notice. Specification(s) for your individual Bobcat equipment will vary based on normal variations in design, manufacturing, operating conditions, and other factors.



For additional information about Bobcat Company, its products and services, point your Web browser to Bobcat.com/our_company/media_center.



Bobcat®, the Bobcat logo and the colors of the Bobcat machine are registered trademarks of Bobcat Company in the United States and various other countries.



©2015 Bobcat Company. All rights reserved.

More from Electrical Equipment & Systems