Compact Rotary Hammer allows access to tight areas.
Press Release Summary: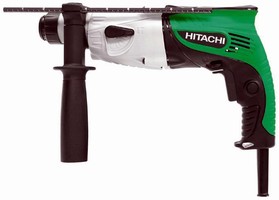 Suited for overhead and extended use applications, DH22PG is powered by 5.4 A, 620 W motor and provides mode selector dial to facilitate conversion from rotary hammer to drill-only operation. This 7/8 in. SDS Plus Rotary Hammer can drill small-diameter anchor holes in concrete, drill through wood and metal, as well as fasten with chuck adaptor. Adjustable 360° side handle can be removed for working in tight spaces and includes ruled depth gauge for precise depth control.
---
Original Press Release:

Hitachi Introduces Newest, Lightest and Most Compact Rotary Hammer



NORCROSS, GA, - Hitachi Power Tools today announced its most compact and lightweight SDS hammer ever, the DH22PG. It is perfect for both overhead and extended use applications and also allows the user access to the tightest work areas. The DH22PG 7/8" SDS Plus Rotary Hammer is ideal for drilling small-diameter anchor holes in concrete and can also drill through wood and metal, as well as fasten with a chuck adaptor.

This new offering from Hitachi is engineered with advanced features and is equipped for the professional who demands speed and reliability from a rotary hammer. The powerful 5.4 amp, 620 watt motor produces rapid results, especially in standard 5/32" and 3/16" diameter holes. (This rotary hammer can take on up to 24 inches per minute in medium density concrete with a 3/16" bit.) With low 8.75m/s2 full-load tri-axial vibration and a high full-load impact rate of up to 6,200 BPM, the DH22PG delivers a comfortable and impressive performance.

In heavy-duty applications, comfort and convenience are of utmost importance and the DH22PG is designed with the user in mind. At just 4.2 lbs and 11.4" in length, this rotary hammer is Hitachi's most compact and lightweight SDS rotary hammer yet. An adjustable 360° side handle provides secure control with a soft elastomer coating to helps absorb vibration. It can be removed when working in tight spaces for maximum maneuverability and also includes a ruled depth gauge to insure precise depth control.

The DH22PG's tool-less chuck is sturdy and reliable and accepts SDS Plus bits with a simple "click." A retainer slides back to release the bit for quick and easy accessory changes. The mode selector dial makes the conversion from rotary hammer to drill-only simple and effi cient. When using the hammer drill over an extended time, the lock-on speed button relieves the trigger during continuous operation with reduced user fatigue. A convenientlyplaced reverse button allows backward rotation to quickly dislodge bound bits when necessary.

Sealed to prevent grease leakage and protect the motor from dust and debris, the DH22PG delivers prolonged tool life and unmatched durability. An idle strike restrictor prohibits hammering while the tool is in no-load operation. This feature protects against unnecessary wear on internal tool components and reduces the noload tri-axial vibration to 1.42 m/s2. The slip clutch prevents damaging reactions to excessive torque while the internal pressure adjustment minimizes pressure fl uxuations that lead to inconsistent bit strike force. With this innovative feature, every strike hits its hardest- every time- for stable hammering and effi ciently powerful drilling.

The Hitachi DH22PG Rotary Hammer is designed to be comfortable and convenient to use while providing exceptional drilling and hammer-drilling performance. It comes complete with a depth gauge, side handle and carrying case. For more information including the full line of Hitachi products and support, please contact Hitachi Power Tools at 1-800-829-4752 or visit www.hitachipowertools.com

HITACHI POWER TOOLS U.S.A.
Hitachi Power Tools carries an extensive line of professional grade tools and accessories for woodworking, metalworking, concrete drilling and cutting, as well as a complete line of pneumatic nailers, staplers, compressors and collated fasteners. During the 1980s Hitachi Power Tools U.S.A. built its reputation for quality on the success of its pneumatic framing nailer and sliding compound miter saws. In 1995 Hitachi Power Tools U.S.A. was renamed Hitachi Koki U.S.A. to denote the addition of manufacturing to the United States. From headquarters in Atlanta, GA, and satellite offi ces in Jefferson, GA, Valencia, CA and Toronto ONT, Hitachi Koki U.S.A. supports nearly 2000 retail locations carrying Hitachi tools and over 1000 authorized service centers. The fi eld sales force and service technicians constantly provide information to engineers to refi ne and upgrade the product selection. Many tools in the line are designed and offered for use only in North America. With dozens of new models already in development, Hitachi Power Tools enters the 21st century continuing to offer the highest level of professional power tools available.

An SDS tool-less chuck allows bits to snap in securely and release quickly for easy accessory changes. This is one of the many features incorporated into Hitachi's DH22PG Rotary Hammer- designed for comfortable control and convenient operation. Designed with the user in mind

Related