Compact Power Amplifiers cover bandwidth up to 18 GHz.
Press Release Summary: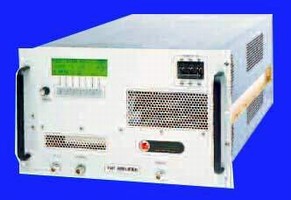 Reduced-height 500 W TWT amplifiers are available in 10.5 in. high chassis covering 1-8 GHz, and 17.5 in. high chassis covering 8-18 GHz bandwidth. Model PT251-2KW provides minimum of 2.0 kW of pulse power from 1.0-2.5 GHz at duty cycles up to 10%. Single drawer 19 x 25 x 10.5 in. design is suited for high-power test specifications and requirements.
---
Original Press Release:

Compact TWT Amplifiers with High Power



(May 6, 2008)

IFI is the leader in amplifier technology, originally founded in 1953 and now the only manufacturer building product in house from DC - 40GHz. IFI - a.k.a. Instruments for Industry "The Power of Choice" - manufactures low, medium and high power amplifiers; CW amplifiers with power levels to 5000 watts and Pulse amplifiers to 50,000 watts. IFI now engineers its high power into reduced height designs.

IFI is pleased to introduce our new line of reduced height 500 watt TWT Amplifiers. These new amplifiers are available in 10.5" high chassis covering 1-8 GHz and 17.5" high chassis covering 8-18 GHz bandwidth.

IFI's PT251-2KW is providing a minimum of 2.0KW of Pulse power from 1.0-2.5 GHz at duty cycles up to 10%. This unit is another industry first from IFI in a single drawer 10.5"H x 19"W x 25"D. This compact design is ideal for the high power test specifications & requirements customers must meet for today's program applications. We offer 2KW for the entire 1.0-18.0 GHz frequency range as well as higher power levels as required.

IFI manufactures a full range of TWT, Solid State and Tetrode tube amplifiers, as well as Antennas, E-Field sensors, TEM cells and other RF & Microwave accessories. Customers can purchase a complete solution for all their testing requirements from a single source. IFI is offering "Single Amplifier Solutions" from 10KHz to 1 GHz, 0.8GHz to 18GHz and 18GHz to 40GHz. These single amplifier solutions are ideal for Bellcore testing, simplifying the customer's test setups and providing time savings for other necessary lab tasks.

IFI products are used for ECM/EW simulators and EMC/RF testing applications, by the automotive, aircraft, military, medical, electronics, wireless, communications and educational markets. IFI offers customers the ability of tailoring our products for the required application. We can add, delete or configure our amplifier products to best fit any customer's need. See our Amplifier option list @ www.ifi.com.

Call our technical service professionals at 631-467-8400 or fax us at 631-467-8558. See us on the web at www.ifi.com, or email us at sales@ifi.com.

More from Electrical Equipment & Systems