DC to DC Power Supplies (Converters)
Compact PoL Converters accommodate 7-36 V input range.
Press Release Summary: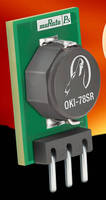 Achieving efficiency levels to 90.5%, Okami(TM) OKI-78SR series is comprised of non-isolated point-of-load (PoL) DC-DC converters that serve as direct drop-in replacement for 3-terminal 7803 and 7805 series LDOs. Switching regulator converters support nominal 24 Vin with 3.3 or 5 V output voltage, depending on model. Measuring 10.4 x 16.5 mm, each comes in vertical SIP-mount package in industry-standard TO-220 format and support up to 500 µF ceramic load capacitance.
---
Original Press Release:

Additions to Okami PoL Converter Range Feature Ultra-Wide Input in Compact Package



Drop-in replacement for LDOs also offers significant efficiency advantages

Murata Power Solutions has expanded its range of Okami(TM) non-isolated point-of-load (PoL) DC-DC converters with the introduction of the OKI-78SR series of switching regulator converters for industrial applications. A direct drop-in replacement for industry standard three-terminal 7803 and 7805 series LDOs, the series offers ultra-wide input voltage range (7 to 36VDC) for nominal 24Vin with either 3.3 or 5V output voltage, depending on the model. The OKI-78SR series offer efficiency levels up to 90.5%; a significant advantage over traditional LDO solutions.

The OKI-78SR series' small footprint, vertical SIP-mount package is in industry standard TO-220 format, with dimensions of just 10.4 x 16.5mm, making these converters ideal for use in space-constrained applications. The converters can support up to 500uF ceramic load capacitance, helping to control output noise.

Additional performance features include quick transient response to step loads, stable no-load operation and outstanding thermal derating performance over the operating temperature range (-40 to +85ºC). The converters' design incorporates under-voltage lockout, over-current and over-temperature protection. The new modules meet the requirements of UL/EN/IEC 60950-1 safety approvals and EMI/RFI certifications are available.

Contact the Murata Power Solutions sales team for price and delivery information.

Contact details for publication:
Murata Power Solutions, Inc.,
Power Electronics Division
11 Cabot Boulevard
Mansfield, MA 02048-1151, USA
Tel: 1+ 508.339.3000 Fax: 1+ 508.339.6356
Product URL: www.murata-ps.com
e-mail: muratapr@murata-ps.com

About Okami

Okami, Japanese for "wolf", is a registered CTM trademark and may be a registered trademark in certain other countries for Murata Power Solutions' new breed of DOSA PoL DC/DC converters. For more information on the Okami family, please visit www.murata-ps.com/okami

About Murata Power Solutions

Murata Power Solutions (www.murata-ps.com) is headquartered in Mansfield, Massachusetts, with over 1,300 employees, and locations in the USA, Canada, England, France, Germany, Singapore, Japan and China. Murata Power Solutions designs, manufactures and distributes DC/DC Converters, AC/DC Power Supplies, Magnetics, Data Acquisition devices and Panel Meters, and offers these products in custom, standard and modified-standard variations. These products, which are built to exacting requirements in ISO9000:2000-approved facilities, are typically used worldwide within telecommunications, computing, industrial and other high-tech applications.

About Murata

Based in Kyoto Japan, Murata Manufacturing Company Ltd is one of the world's leading providers of ceramic based components, sensors, and AC/DC and DC/DC power solutions. Founded in 1950, the company has over 34,000 employees worldwide, and over $6.3 billion US in consolidated annual sales (as of March 31, 2008). Everywhere in the world, wherever you can reach, Murata's electronic components are always at work.

More from Electrical Equipment & Systems