Compact Navigation Switch offers 14 touch/tactile functions.
Press Release Summary: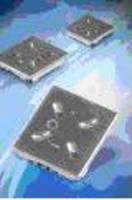 SensoNav(TM) combines 14 sensitive touch and tactile functions in 9.9 x 11.3 x 2.0 mm package. Combination of switch signals to software in one device negates need to add another switch, pad, or component. Sensitive and tactile technologies enable standard 5-way center, up, down, left, and right directions with tactile feedback; free-direction scrolling on sensitive level; 2 scrolling directions with variable speeds; and 4 scrolling directions with double speeds.
---
Original Press Release:

C&K's 14-Function Navigation Switch Offered in Smallest Package Available on the Market



Navigation switch employs unique combination of technologies to simplify designs, reduce cost...

C&K Components, a leading international supplier of tact switches, toggle, rocker and pushbutton switches, and smart card interconnect devices, has developed a 14-function navigation switch in the smallest package available on the market. The SensoNav(TM) switch combines sensitive touch and tactile functions in a package size measuring only 9.9mm x 11.3mm x 2.0mm.

"The SensoNav switch was developed as an alternative to touch pad technology, and because it utilizes a combination of switch signals to the software in one device rather than adding another switch, pad or component, a significant amount of space is saved," said Jerome Smolinski, senior product manager for C&K Components. "The switch also employs the same driver that drives the keyboard in significantly less space, so not only is space minimized and design simplified, but cost is reduced because no additional electronics are required."

While typical navigation switches employ either a 5-way switch or pad, the SensoNav(TM) switch combines these technologies in the only 14-function navigation switch currently available on the market. The SensoNav switch is being implemented in a variety of portable electronics application including portable games, mobile phones,
MP3 players and universal remote controls.

While other navigation switches aren't surface mountable or compatible with pick and place equipment, SensoNav is compatible with standard SMT lines and doesn't require power consumption, all while enhancing device functionality. The combination of sensitive and tactile technology enables the standard 5-way center, up, down, left and right directions with tactile feedback, free direction scrolling on the sensitive level, as well as two scrolling directions with variable speeds and 4 scrolling directions with double speeds.

For more information please see the product profile pages: SensoNav