Compact Excavators offer flail mower attachment.
Press Release Summary: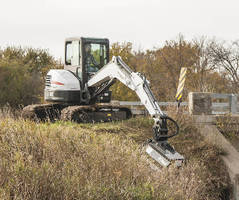 Available for Bobcat E63, E80, and E85 excavators, Bobcat® 40 in. FMR Flail Mower Attachment provides optimal safety and performance in mowing and land-clearing applications. Attachment features triple-knife design, direct-drive motor for aggressive cutting, and compact deck for varying ground contours and hard-to-reach places. Side safety chain within housing unit helps deflect and contain debris, while rubber torsion disc absorbs stress forces encountered during operation.
---
Original Press Release:

Bobcat Company Expands Flail Mower Attachment Offering for Compact Excavators



(WEST FARGO, N.D.) -- Complete tough land-clearing projects with ease with the new Bobcat® 40-inch FMR flail mower attachment. This flail mower model is available for use with Bobcat E63, E80 and E85 excavators.



The flail mower attachment provides optimal safety, performance and uptime protection in mowing and land-clearing applications such as cleaning ditches, hillsides, utility right-of-ways and riverbanks, as well as maintenance for parks and recreational trails.



Safety features

The flail mower has multiple safety features, such as a side safety chain within the housing unit to help deflect and contain debris that could be thrown during operation. Additionally, a rotor brake stops the flail mower from full speed in seven seconds or less when the flail mower hydraulics are deactivated.



Cut more efficiently

Compact excavator owners who need a smooth cutting motion to rip through hard and soft woods, vines, grass and brush will appreciate the flail mower's triple-knife design. The compact deck allows the flail mower to manage varying ground contours and hard-to-reach places, maintaining surface contact for efficient cutting.



The direct-drive motor excels in aggressive cutting applications, providing an optimal balance between torque and rpm. The popular X-Change™ attachment mounting system makes it easy to connect the 40-inch FMR flail mower to the E63. A pin-on mounting system or optional pin-grabber quick coupler option are available for connecting the 40-inch FMR flail mower to the E80 and E85 excavators.



Reduce downtime

To help keep up with various land-clearing jobs and to reduce machine downtime, the 40-inch FMR flail mower features:

• Reversible flails: Provides bi-directional rotation by switching the hydraulic hoses at the drive motor.

• Rubber torsion disc: Absorbs stress forces encountered during operation.

• Heavy-duty flanges: Protects the drive train from dust and debris, and prevents wires from damaging the drive train mechanism.



QuickLook: Bobcat 40-inch FMR flail mower



Weight with X-Change system mount (E63): 881 lb. (400 kg)

Weight with pin-on mount (E80 and E85): 876 lb. (397 kg)

Working width: 40 in. (1016 mm)

Overall width: 60.4 in. (1524 mm)

Cutting capacity: 4 in. (102 mm)

Hydraulic flow: 18.4 – 31.7 gpm (69,7 – 120 L/min.)

Number of knives: 36



ABOUT BOBCAT COMPANY

Bobcat Company, headquartered in West Fargo, North Dakota, is a worldwide leader in the manufacturing and distribution of compact equipment. Bobcat compact equipment includes skid-steer, all-wheel steer and compact track loaders; compact excavators; mini track loaders; VersaHANDLER® telescopic tool carriers; utility vehicles and Toolcat™ utility work machines. Bobcat is a global brand with more than 550 dealer locations in North America and the leader in compact equipment — the industry's original innovator, beginning more than 50 years ago with the first compact machine and predecessor to the skid-steer loader. Bobcat Company is a subsidiary of Doosan Infracore Bobcat Holdings Co., Ltd., a wholly owned subsidiary of Doosan Infracore Co., Ltd. For more information on Bobcat products, visit Bobcat.com.



Certain specification(s) are based on engineering calculations and are not actual measurements. Specification(s) are provided for comparison purposes only and are subject to change without notice. Specification(s) for your individual Bobcat equipment will vary based on normal variations in design, manufacturing, operating conditions and other factors.



For additional information about Bobcat Company, its products and services, point your Web browser to Bobcat.com/our_company/media_center.  



Bobcat®, the Bobcat logo and the colors of the Bobcat machine are registered trademarks of Bobcat Company

in the United States and various other countries.



©2015 Bobcat Company. All rights reserved.

More from Electrical Equipment & Systems